As Mommy to a precocious 2 year old boy and an inquisitive 4 year old girl I've learned to depend on the wonder of Mommy's iPhone when it comes to entertaining those two while sitting and waiting. Right now the phone is off-limits unless we are out and about and have to wait – at the license bureau, the doctors office, a restaurant, while Mommy is trying to find the right pattern for the next sewing project… you get the picture. Fortunately I only have one phone so the kids have learned to share too. It's a win-win situation! We do occasionally spend a few minutes in the evening playing a quick game on the phone or iPad or reading a book, but for the most part screen time is a real treat and I like it that way.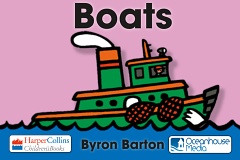 I was delighted that the opportunity to review the digital version of Boats for iPhone, iPad and iPod Touch coincided directly with Daddy's Sunday afternoon eye doctor appointment that we were all going to.
We have enjoyed print versions of Byron Barton's classic picture books and I like his simple, yet bright illustrations. The digital version of Boats was delightful. For the first read-through my two-year-old manipulated the pictures rubbing his pudgy little finger back and forth across the screen as fast as he could to make the boats fly across the screen. There was a lot of giggling! For the second read-through I gave the phone to my four-year-old who moved the boats around (and noticed that they all made a different sound) but also touched all the different elements of the picture and the words in the storyline and was quite intrigued with the app.
In short – we give this app a 6 thumbs up rating. I like it because it isn't too advanced for my toddler but has more advanced elements that my preschooler also enjoyed. After the first couple of rounds the kids went to our usual pass the phone back and forth between pages method and were interacting with each other as much as they were with the book. The best part – it kept them in their seats and occupied for a good half hour.
The disclaimer I have to give is that my kids really don't have much screen time at all. Mostly we strew duplo's across the house, build trains, play house and get dirty outside – so anything on the iPhone or iPad that the kids get to do is an immediate treat and guaranteed to keep them occupied for awhile. That said – they've asked if they can play with the Boats book everyday since we first tried it out, they haven't done that with any other game or book that we've downloaded.
Guest Reviewer Jenn is a Graphic Designer who traded in days spent creating junk mail and training dogs to days spent raising her two children while creating junk mail in the middle of the night. She thinks that reading and electronic gadgets are best enjoyed in a cozy chair with a cup of coffee and a couple of good dark chocolate truffles. When she finds time, you can find her blogging at A Blessed Crazy Life or on Pinterest.