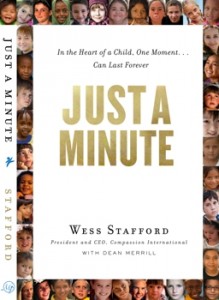 Just a Minute: In the Heart of a Child, One Moment … Can Last Forever is the perfect book to buy as an end-of-school thank you for teachers, Sunday School workers, coaches — anyone who works with children. I waited too long to order them online for my son's 3 teachers — even though I knew it would be a great gift as soon as I started reading — so I was thankful that my local Christian bookstore had more than enough copies when I stopped in last weekend.
In the introduction, Wess Stafford, the president of Compassion**, challenges the reader to take the opportunities to encourage a child that come our way all the time by sharing stories of regular everyday people (and some well-known ones) who were encouraged or discouraged by words or actions that too just a minute for someone to share.
The dedication reads
To the very next child God brings across your path. . . if only for just a minute.
The stories are grouped by topics — ways that our words might impact a child:
A Moment for Rescue
A Moment to Build Self-Worth
A Moment to Form Character
A Moment to Discover Talent
A Moment to Awaken the Spirit
A Moment to Stretch the Mind
A Moment to Realize One's Calling
It inspired me, especially in regard to my own children, but also to be more thankful for those people who are investing in my children.
Who do you appreciate? Perhaps it's someone in your life who gave you (or your child) the encouragement you needed to pursue your dreams — a parent, a grandparent, aunt or uncle, church worker, friend of the family. Read this book and then pass it along, or if you are looking for a great thank you gift for a teacher or someone else who has touched your child's life, I think that there's no better way to express your appreciation than by reminding them how critical their words are as they read Just a Minute: In the Heart of a Child, One Moment … Can Last Forever.
**I gained so much respect for the Compassion child development program when I went along with the Compassion Bloggers to the Dominican Republic in the fall of 2008. You can read all about my trip at 5 Minutes for Mom.