Cuddly as a Bunny – Picture Me®, is a cute book app from omBooks that lets you add your child into the story by interspersing her face photo with pictures of other babies in cuddly animal suits. You can add up to 4 different photos, either using either the photo library on your IPod or the camera function if you have a newer IPod touch.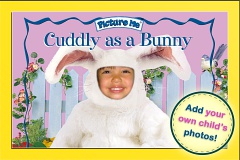 Toddlers will enjoy recognizing their own faces among the babies. But E. and I entertained ourselves by using pictures of various relatives and even our pets. She dissolved into peals of laughter when her beloved Mamaw showed up in the book in a fuzzy lamb suit. The app lets you zoom and rotate the pictures so that they will appear neatly in the fuzzy suits, which gives you flexibility in choosing which photos to use. Changing out the photos for fresh ones is a breeze.
The child must tap an arrow in order to turn the page. Since the target audience is clearly toddlers, an auto play feature would have been a nice addition. Preschoolers should have no trouble with navigation. Tapping on "floating" objects on the screen causes fun sound effects, such as quacking or munching sounds. If a picture of one of the babies is tapped, the screen zooms in and an animal sound or fun phrase plays.
For the pages that your personal pictures appear on, you can tap a small button at the bottom of the page to e-mail the page, save it to the photos on your Ipod, or print it (if you have a compatible wireless printer).
While the story itself doesn't exactly qualify as great literature, the prose is gentle and rhythmic, appealing to young children. But let's face it, the big draw here is the cuteness factor of the pictures… babies in fuzzy suits, especially the sweet face of your own little one…. What could be better? If Cuddly as a Bunny delights your child, then omBooks also offers other books in the Picture Me® series.

Guest Contributor Sherry is married to the love of her life, and enjoys surrounding herself with books and cultivating her two young bookworms.