I honeymooned in New Orleans, and when we lived in Houston, we went a few more times for a weekend escape. We don't drink, but we like to eat, and walk, and people watch in cities full of character and historical charm. New Orleans offers all of that and more.
The Big Easy. Laissez Les Bons Temps Rouler! Cajun food. Jazz music. Voodoo. The muffaletta. Until recently when you mentioned "hurricane" and New Orleans, people would think of the red rum-spiked frozen drink, not a disaster. When Hurricane Katrina ravaged the area, I not only mourned the personal losses of those involved, but the affect it had on one of my favorite cities — the chefs, hoteliers, and souvenir shop owners whose livelihoods were interrupted. Would tourism come back? And if so, when?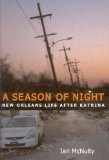 Three years ago at this time, New Orleans residents watched in horror from their outposts in Houston, Baton Rouge and other nearby towns as their city remained under water.
In A Season of Night: New Orleans Life after Katrina, Ian McNulty writes about his return to his home in a mid-city neighborhood — one of the areas that remained abandoned for many months. In the weeks he spent post-storm in a hotel room in Baton Rouge, it became clear to him that he wanted to be one of the ones to return to the city he loved — to be a bastion of hope to the city and to his neighbors.
He lived there for six months without electricity or city services with only the company of his dogs. Gradually he saw restaurants and bars reopen in the neighborhood. It's hard to imagine living on the second floor of your home, alone, with no electricity and tarp-covered windows. McNulty gives an accurate picture of the periods of hopelessness, the preoccupation of work, and the foundation of hope leading him to have a party to chase the gloom from his home, and to persevere. The writing is wonderful — descriptive and honest, yet lacking the annoying self-focus that often accompanies memoirs.
Memoirs are often about recovery from an addiction or an abusive childhood, or an adjustment to a big life change. McNulty writes about the recovery of his city in post-Katrina New Orleans. He also includes memories of the pre-disaster New Orleans as a backdrop to the story, underscoring his belief in the power of the people to recover. His love for the city and the people who make it up has the reader rooting for a complete and swift recovery for McNulty and the city as a whole.
If you already love New Orleans, as I do, the book is a wonderful reminder of what you're missing. If you haven't experienced the wonder of the Crescent City, this love story will whet your appetite for the city that is unlike any other in the United States. If you'd simply like to peek into what it really takes to survive a disaster, the book will captivate you.
Managing Editor Jennifer Donovan is a contributing editor at 5 Minutes for Mom. She has been blogging at Snapshot for over two years. You'll almost always find her holding either a book, a fork, a child's hand, her laptop, or some combination therein.