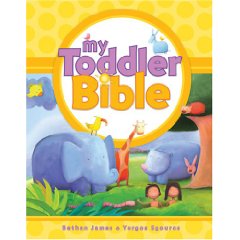 Looking for a Bible for you to use with your family or young child? It can be hard to pick. Just like adult versions, there are a bunch of options out there for young tykes as well. With all of the options available, you can second guess yourself hundreds of times as to what will be the most impacting for your family. A good place to start is Tyndale Publishers who have a line of Bibles just for kids. I received a small stack of them to review and I'll highlight a few here for you.
The My Toddler Bible is simply and colorfully illustrated by Yorgos Sgouros (say that 10 times fast!). It begins with the story of creation and ends with "Easter Morning." A short 34 page board book, it's probably best utilized by a 3-4 year old. The stories aren't too long. They are basic and straight forward. Very Bible-storyish in nature.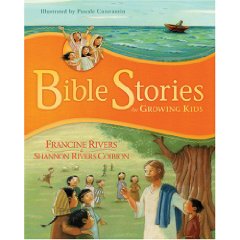 If you appreciate Francine Rivers ability to tell stories and make history come alive, then you'll be excited to know that Tyndale has recently released Bible Stories for Growing Kids by Francine Rivers and her daughter, Shannon Rivers Coibion. This particular Bible operates more like a study Bible. The stories are divided up into both the Old and New Testament (starts with Creation and ends in the book of Timothy) and at the end of each story there is a study entitled "Growing Time." Inside the Growing Time pages you'll find interesting historical and Biblical facts, truths from God's word and points to ponder. I would peg this book for ages 5 – 10.
To win a copy of Bible Stories for Growing Kids, as well as to preview a few other Bibles for children and families, visit my blog, Reading to Know and leave a comment in the "Bibles for Kids" post.
Also, if you have used either of these Bibles with your children, please leave a comment and let us know what you think of them (or any others)! I'd like to hear your thoughts.