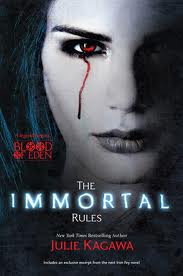 It has been a long time since I have read a vampire story, probably since the original Vampire Chronicles by Anne Rice in the 1990s, but I am so glad I took a chance on Julie Kagawa's The Immortal Rules, the first book in her new Blood Eden series. This YA novel from Harlequin Teen is a fast-paced, mind-bending look into a world where vampires rule and humans serve.
Allison Sekemoto refuses to serve, however. As an unregistered human living in the Fringe just outside the Inner City, she must beg, borrow, or steal just to eat, since only registered humans who report for their monthly bloodletting get food rations from the vampire masters. When food becomes too scarce even for her little band of scavengers, she uses the old underground tunnels to make her way past the Outer Wall to the ruins beyond, looking for stockpiles of food in the abandoned, crumbling suburban houses.
Once Allie finds a basement full of canned goods, she brings her friends out to help collect the stash. Unfortunately, they do not make it back before nightfall and are viciously attacked by the rabids that prowl freely in the dark. All of her friends are dead, and Allie is not far behind them, when she is unexpectedly given a choice between death and survival. A vampire who has seen their struggle offers her the chance to become transformed rather than die from her wounds, and, despite knowing that she will become the thing she has feared all of her life, she chooses survival.
Now Allie must learn how to feed and protect herself as a vampire and, eventually, to make her way on her own. As the story progresses, she falls in with a band of humans that travels at night and sleeps during the day as they search for the legendary city of Eden. Throughout, The Immortal Rules is a gripping read with complex characters and an intense storyline. Kagawa has created a fascinating world where survival is paramount, yet nothing is black and white.
I would highly recommend this for older teens and young adults, due to the graphic violence and mature themes.