In honor of National Princess Week (who even knew there was such a thing?), we have a special book and movie giveaway for one of you.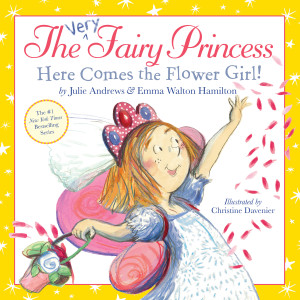 The Very Fairy Princess: Here Comes the Flower Girl! is co-written by Julie Andrews and her daughter Emma Walton Hamilton. I interviewed Julie Andrews on my Despicable Me press junket 2 years ago, and whereas some were astounded to meet the screen legend that she is, I was awestruck at meeting one of my favorite authors (check out my interview for more on that). I haven't read this particular series (this is the 3rd "Very Fairy Princess" book), but I know that Julie Andrews is a literacy advocate who loves children and loves providing them with quality reading material, so I imagine that this book fits that bill. The subject matter is certainly something to which that most little girls can relate. If they haven't been a flower girl, most have wished they could!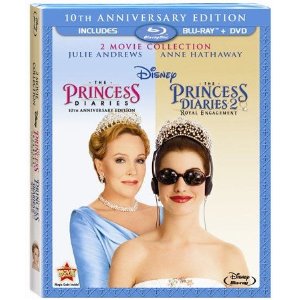 The second part of our giveaway is a special 10th Anniversary DVD/Blu-Ray combo of The Princess Diaries 1 & 2 (linked to a guest review that posted in 2010). This special edition is available only at Target during the month of April.
Though animated princesses have never been idols of mine or my daughter, I do love this movie. It's a real-life "princess" story featuring Anne Hathaway as a smart and courageous regular teen-turned-princess.
Whether you have a preschooler who loves to pretend to be a princess, or you have a daughter who turns her nose up at wearing dresses, there's something here for everyone to enjoy.
One of you will win a copy of the Blu-Ray/DVD Combo pack and the The Very Fairy Princess: Here Comes the Flower Girl!. Just leave a comment and we'll announce one winner in our book giveaway column on May 9.
Check out our current giveaways. Subscribe to our feed. Follow us @5M4B on Twitter.