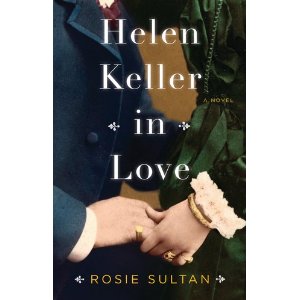 When I heard about Rosie Sultan's historical fiction novel Helen Keller in Love, my heart beat a little faster.
You see, when I was a girl, I loved Helen Keller. I'm sure I wasn't the only one, but I read books about her, Annie Sullivan, and then later other books (fiction mostly) featuring blind or deaf heroines. I learned the finger alphabet by following the diagrams at the back of one of my books, and my parents proudly asked me to share what I knew.
If Helen Keller in Love did anything to dig up facts and incorporate them into a fictional story like some recent novels have (such as The Paris Wife), I was sold! I was curious about Helen Keller's life in her late 30's and the romance that she herself mentioned briefly in one of her autobiographies.
Rosie Sultan did base her book on facts — about Helen Keller's speaking career, her benefactors, and yes, some facts concerning that romance. I enjoyed learning all of that, and feeling Helen Keller's frustration with being limited and controlled by her mother and Annie Sullivan.
However, the novel is told in the first person, which lent her words and thoughts and feelings even more weight (even though I knew they were fictional), and since many of her thoughts and words were about her "burning desires," it was a little awkward. I also felt as if Sultan took some liberties in sharing some of the physical sessions that may or may not have occurred. She also did not include a detailed list of what was true and what was speculation as I've seen some writers of historical fiction that features real people do.
Parts of it read like a tawdry romance novel (or a young adult novel of the type that I joke with my daughter feature lots of "yearning and burning."). I personally think the novel would have been stronger without it, but I admit that my perspective of Helen Keller as being a real woman — not merely a blind and deaf heroine — which I would assume was some of Sultan's intent.
Nonetheless, my curiosity has been poked again, and I think that I'll be searching out some more information about this period of time in Helen Keller and her companion Annie Sullivan's lives, so even with my reservations, if you are a Helen Keller fan, I think you might enjoy it.
Thanks to the publisher, I have a copy to give away to one of you (U.S. shipping only). Please leave a comment if you'd like to win. We'll announce the winner in our May 9 giveaway column.The giveaway is closed.
Check out our current giveaways. Subscribe to our feed. Follow us @5M4B on Twitter.