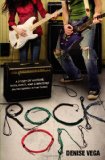 I will begin this review by admitting that I did not read Rock On: A story of guitars, gigs, girls, and a brother (not necessarily in that order)
myself. I handed it to my oldest, Elliot, who's in Grade 11. He devoured it, and before I knew it, the twins (Abel and Ilsa, Grade 9) were reading it too. All 3 were loud in their praise. From my (admittedly limited) experiment, I would say that 100% of teens love this book! You can't really get much higher praise for a Young Adult novel. Here's what they had to say about it:
Elliot: Rock On
is a really good book. It's a short read, but does a good job of pulling the reader in. The book is about a high school band trying to make it big. They have a blog and hold auditions for a bassist, but also have limited resources at their disposal. I think it's great that they don't have an easy way making it to the top. It's hard and requires work and effort on their part. They have to work in band time with school and family time.
The protagonists are dynamic characters, which adds depth to the novel, and really makes the reader get to know the characters better and relate to them more. These guys aren't just people you read about in a story, they're characters that you can see at your own high school, people you might actually know. This gives the book a more personal feeling and also adds depth to the novel. I also really enjoyed this book, because I'm a drummer in a garage band, and I would like to be able to play full time and get good and what not. But I don't really see that happening.
The basic plot is a small garage band who needs a bassist, and then have their first concert. Orion "Ori" Taylor has some problems with his older brother. He always looked up to him, and then the brother went to college and had problems. Out of his brother's shadow, Ori comes into his own and gains popularity, which makes his older brother jealous, and their relationships disintegrates. Finding ways to solve that is a main part of the plot.
They really need to work on more songs and get a bassist because they are competing in their school's Battle of the Bands. Their band doesn't have a name. Their progress is impeded by their lead singer's family problems, but they manage to get some decent practice time in, and score a really good bassist. I really liked this book.
Ilsa: Rock On
was a good book. I really liked it.
It's about friends being there for you even when you have a psycho older brother. The plot contains a few twists, although there weren't any huge surprises. But it's really well-written. I couldn't put it down.
Abel: Rock On: A story of guitars, gigs, girls, and a brother (not necessarily in that order)
is a pretty awesome book about teenagers in bands. Ori Taylor, the person that formed the band, doesn't have a good relationship with his older brother, but through the band, their relationship improves. I would recommend it for anyone.
Elizabeth must admit that she loves it when her kids devour books and then rave about them. Read more at her blog Planet Nomad.