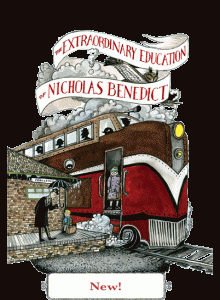 When I read the last pages of The Mysterious Benedict Society and the Prisoner's Dilemma, the third book in the Mysterious Benedict Society series, it felt like the end. It felt like it, but it wasn't definitive, and I hoped that there would be further adventures for Reynie, Kate, Sticky, and Constance, these characters who I had come to love. Or maybe even better, Trenton Lee Stewart was hard at work creating even more lovable characters. I periodically googled and searched amazon and continued to come up with nothing new.
Then last month I got an email from Little Brown Kids asking me if I wanted a review copy of the newest Mysterious Benedict Society novel. My searching had petered out, and so I didn't even know about it, but my face filled with a grin I quickly responded with an enthusiastic "yes, please" as I requested the new prequel.
Author Appearances
If you are a fan of the Mysterious Benedict Society, you can see the author Trenton Lee Stewart at several locations through the month of April including Milwaukee (tonight!), Portland, Seattle, New York, Houston (and I hope to be there!), Los Angeles and San Francisco. Find out the dates and all information at the Mysterious Benedict Society's webpage.
Whether you are a fan or not (if you aren't, you most definitely should be), you can enter to win this newest book, The Extraordinary Education of Nicholas Benedict. I have THREE copies to give away (U.S. only).
If you aren't sure what this book might hold, or even the tone of the other books, check out this short trailer:
We haven't read it, because I just received it yesterday, but stay tuned for mine (and Amanda's) thoughts on this latest installment (here's my review). Prequels are interesting. Sometimes you really need the background of the other books even though they come after in a chronological sense, because of the story progression, but other times you can read them before. It seems as if this one could be that way, but either way, this series is one that I highly recommend.
I can't wait to begin sharing them with Kyle (who is almost 8). Perhaps soon, like perhaps this summer.
Don't miss a thing: Check out our current giveaways. Subscribe to our feed or video reviews on YouTube. Follow us @5M4B on Twitter or on Facebook.
Leave a comment now to win one of 3 hardcover copies. We'll announce the winner on May 2. This giveaway is closed.