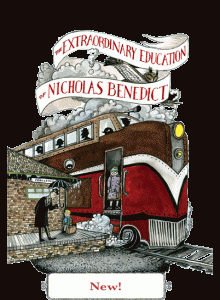 If you are like me, you finished Trenton Lee Stewart's 3rd Mysterious Benedict Society novel The Mysterious Benedict Society and the Prisoner's Dilemma and wondered what would happen next. My daughter, who had urged me to read all the books after she fell in love with them, thought that the 3rd book seemed like an ending. It did wrap up, but I hoped that there would be more adventures from Reynie, Sticky, Kate and Constance. If not something else about these beloved characters, I trusted that he'd write something new, and I would like it just as much.
With The Extraordinary Education of Nicholas Benedict, we are actually treated to the best of both. It is somewhat familiar, taking us back to the mysterious Benedict's childhood. We meet 9-year-old Nicholas as he's being moved to yet another orphanage. He is extraordinary, mysterious, sharp, and precocious. He's also a bit lonely. The mean guys at the orphanage — the Spiders — are determined to show him up, but he and another outcast, John, team up to avoid their pranks. They also meet a girl from town, Violet, who is deaf (so of course, the brilliant Nicholas learns sign language overnight by speed reading a book on it).
There is indeed a mystery to be solved: Mr. Collum, the not-so-nice director of the orphanage, is convinced that Mr. Rothschild has hidden a fortune somewhere within the manor (which he converted to an orphanage in his estate in honor of his wife). Nicholas, John and Violet are determined to find it for themselves as a way to save themselves from their own sorry state.
I enjoyed getting to know this group of new characters, couched in the somewhat familiar MBS clothes of Mr. Benedict's past (he still has a nose like a turnip and is plagued by narcolepsy). This book is just as good as the others — clever and intriguing, if not quite as humorous. I am hoping that more volumes in this series will tell us what happens to Nicholas next.
You can still enter to win a copy of this novel if you click through and leave a comment the giveaway post. The giveaway closes Tuesday night, so be quick!
Leaving a comment here won't help you win, but I'd love to know if this series is new to you or if you are excited to hear about a 4th book from Trenton Lee Stewart.