Editor's Note: I am happy to welcome author Darlene Brock to this guest posting spot. She is the author of Help Wanted: Moms Raising Daughters, which I recently reviewed on 5 Minutes for Mom. Click through for your chance to win a copy
I grew up in a rural Northern Indiana town. This tranquil city had the life rhythm of many small towns with a population of 12,000. Neighbors knowing one another, gossip hitting the 12 page local newspaper under the guise of journalism. Teens not having a lot of excitement offered created their own by the parties in the woods with bonfires and beer.
In the middle of that quiet community I found my world of dreams, heroes, adventures and life possibilities. It may seem crazy to discover all of this in a mere building, but it indeed was housed in an old brick structure with beautiful stained glass windows from an era gone by. Among the abundance of tables, wooden bookshelves and the smell of old books my imagination was captured. The Eckhart Public Library held the most magnificent treasures for this dreamer child who was never content with normal life, especially in this small Indiana town.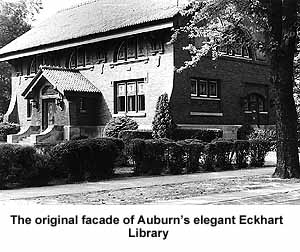 After finding this land to the future in elementary school I read hundreds of books from the children's floor then moved upstairs to the grown-up books. In middle school I read every biography of females through history the bookshelves held. I was convinced at thirteen that adventure was at my doorstep and it would be mine. I could change the world, right wrongs, save lives because I found women that already had. When I wanted to learn how to be better or accomplish more, I landed in the how-to section. And yes, the library was there for the schoolwork I was forced to produce although those books were the last ones I took home. But it was through my insatiable appetite for reading at that wonderful library that I learned about all things life.
A mere two weeks following my high school graduation I hit the road leaving this small town behind to see the great big exciting world. In the years that followed I have travelled to places I had never been, collecting an array of personal accomplishments. I have experienced first hand the richness of the humanity that before leaving home I only read about. Reading indeed became the launching pad for all I have done thus far and will be part of all I have yet to do.
Every child should have this opportunity and every parent should open the doors to the land that only exists in books. Times change and the big brick library may no longer be standing but books always will. Whether it comes in printed form, the digital world or the format of the future give your child this road to a big life. Make sure they read about the dreams of others that will inspire them. There is no avenue that stimulates the creative mind, shows us how to be better at whatever we want to accomplish, or opens the door to adventure more than written words of others.
Guest contributor Darlene Brock is the Author of Help Wanted: Moms Raising Daughters. Visit her Website at www.thegritandgraceproject.com or on Facebook www.facebook.com/darlenebrockauthor