When my oldest son, now 13, was a little boy, one of his favorite books for the two of us to read together was Dr. Seuss's first children's book, And to Think That I Saw It on Mulberry Street. The imagination of Marco, the story's main character, appealed to my creative kid, and we would pull it out time and time again to enjoy together.
My youngest son, now five, has also enjoyed this book, but being a true kid of the digital age, I had a feeling he'd enjoy the newest version even more. And to Think That I Saw It on Mulberry Street is now available as an interactive omBook, with apps for both Apple and Android devices.
We had the opportunity to try out the iPad app version of this classic children's book, and we both thoroughly enjoyed it. As with other interactive omBooks, the app provides three options, or reading modes:
"Auto Play" reads and turns pages automatically.
"Read to Me" reads each page aloud, but allows the child to swipe pages when they're ready and to interact with each page as desired before swiping.
"Read It Myself" gives kids full control over reading, interacting, and turning pages.
The three modes really make the app versatile, and suitable to a broad age range. A younger child might benefit from the Auto Play mode, while a beginning reader could use the Read It Myself mode to practice reading skills and enjoy the other fun aspects of the app at his or her own pace.
In addition to the story-reading, each page has some fun extra features. Kids can tap on words to repeat them or tap and hold on a paragraph to have the entire paragraph read to them (great for early readers!). Each page also has illustrations that are "tap-able" — kids can tap on every part of the picture to have objects identified (both audibly and with the identifying word appearing on the screen). I was amazed at how many different objects on each page could be tapped, providing even more for kids to learn.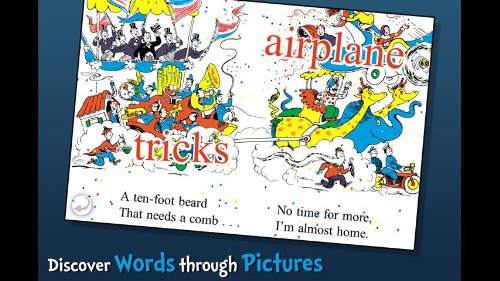 One thing I really appreciated about the omBook version of And to Think That I Saw It on Mulberry Street is that they used the exact same illustrations as the original book, first published in 1937. In fact, when we initially started up the app, my five-year-old immediately ran to get his hard copy so he could compare, and was delighted to find that the familiar and well-loved pictures matched.
If you're unfamiliar with this classic Seuss story, it's a brief tale about a little boy who sees a horse and cart plodding along Mulberry Street as he walks home from school. But being full of imagination, he can't stop there, and his mind embellishes the scene to include all kinds of outlandish and fun additions. My son relates well to the creativity and giggles at the silliness. And I believe the interactive omBook enhances and complements the book that has long been a staple in our home.

Guest contributor Katrina shares her love of Dr. Seuss — and her ipad — with her two sons. She blogs at Callapidder Days about faith, family, and random thoughts that fill her mind. She has hosted the Spring Reading Thing since 2007.
Guest Posting opportunity: Do you have an apple device such as an ipad, iphone, or ipod touch that you use to occupy your toddler or preschooler? Please send me an email at 5minutesforbooks (at) gmail dot com if you'd be interested in posting some guest reviews here for these types of apps. We get offers with free download codes, but we either don't have apple devices, or don't have young preschoolers, and I'd love to feature more of these reviews. Put "book apps" as the subject of your email, and in the body give me your name and let me know the age and sex of your children.