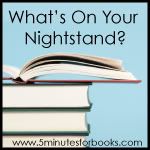 Don't ask me what the weather is like right now, but last week we had the most beautiful week here in Connecticut. For me, that means an opportunity to indulge in my absolutely, hands-down, favorite activity: Reading a book on the back deck while I soak up the sunshine. It's not too cold, and not too hot. I'm outside so I feel as if I'm doing something other than just holing up and reading (not that there's anything wrong with that). And I can encourage the kids to come outside as well — either with a book or some bubbles or sidewalk chalk — and there's no denying that fresh air is good for them.
What about you? Does spring increase your reading time and desire or does it fall by the wayside as you get involved in other activities?
Please link your post telling us "What's on Your Nightstand" below. You can tell us what you just finished or what you hope to read this month.
Take a picture of your pile, or just give us a few quick titles.
Tell us how you pick your books.
Address any or all of these topics: what you are reading, why you are reading it, how you are going to read it (If you really like talking about these types of issues, consider contacting me to pitch an idea for an On Reading column. We love guest contributors!).

Bloggers — Do you want a free book and a chance to win a $25 amazon gift certificate? Read my post to see if you want to read Fireworks over Toccoa and blog about it and discuss it with us here at 5 Minutes for Books. We are only taking a few more bloggers, and you have to be able to post about it by mid-April (it's a really quick read). But if you are interested, send me your name and address and why you'd like to read it, along with a bit about your blog audience.
Anyone can read a big chunk of the beginning of the novel, and enter to win one of 300 copies at Fireworksovertoccoa.com.
Find out about our upcoming community events at our Join In page. Coming soon:
Check out our current giveaways. Subscribe to our feed. Follow us @5M4B on Twitter.
Link directly to your post telling us what's on your Nightstand here. And don't forget to visit around!