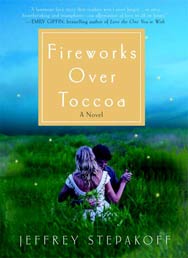 Whether you regularly review books or not, we want to find bloggers with active online communities who want to read and review Fireworks over Toccoa. Click on the title to read my full review that posted today at 5 Minutes for Mom to see if it's something that interests you.
One thing that I liked about Fireworks Over Toccoa is that it's a quick, easy, inviting read. It's only 272 pages, and the writing is descriptive and yet not overly flowery (which I sometimes enjoy, but I have to admit it does take more time to wade through).
So–if you are a mom who wants to read, but don't have a lot of time, this is the kind of book you want to pick up. Give yourself a few hours, and you can brag that you read a whole book!! Perhaps you are like me, and don't need extra incentive to while away the hours by reading instead of cleaning your house. Fireworks Over Toccoa has something for you as well. No matter how much we read, any of us like that immediate satisfaction of finishing a book quickly!
I also think that this book will appeal to
Fans of World War II era fiction
Georgians (the state, not those from English historical period)
Military wives
Romance-readers
Read my review of Fireworks over Toccoa to find out about what I liked about the book.
We are also going to host a sort of a bookclub here in mid-April, inviting you to link up your review or discuss the book along with us. Stay tuned for more details. However, I do know that anyone who links up a review by the deadline will be entered to win a $25 amazon gift card (sponsored by me — thanks to amazon affliliate rewards!)
If you are interested in receiving a copy of Fireworks over Toccoa and know that you will be able to read it and review it on your blog by mid-April, send an email with "blogger book" in the subject field to 5minutesforbooks (AT) Gmail DOT com. Tell me why you want to read the book, provide a link to your blog, and tell me why you'd be a good word-of-mouth advocate for this book (assuming you like it — we do want you to post your honest thoughts). This is open to U.S. and Canadian shipping addresses.
Not a blogger? Remember, anyone can still join in our bookclub and still be entered to win the amazon gift certificate.
You can read over 100 pages of the book right now at FireworksOverToccoa.com. You can also enter to win one of 300 books!
Read my full review of Fireworks over Toccoa at 5 Minutes for Mom to find out more about the book.
Are you in a book club? The publisher would like to give you up to 12 copies of this book if you can read it for your April or May bookclub. Find out all the details about having Fireworks over Toccoa as your bookclub selection at 5 Minutes for Books.
Email me (see above) to ask for a free review copy to feature on your blog. I'll write you back within a couple of weeks to let you know if you've been accepted.
Check out our current giveaways. Subscribe to our feed. Follow us @5M4B on Twitter.

*Disclosure: This is a paid campaign with the publisher to help them reach bloggers and bookclubs. However, as always, our opinions are our own.