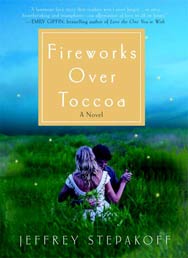 Are you in a book club? Book clubs can be fun, social, educational, and thought-provoking.
But they can also be hard to coordinate — finding a book that everyone will enjoy and have time to read.
And they can be expensive as everyone has to buy a copy of the book.
Or they can be risky, as some put their name at the bottom of a long line of library requests hoping to receive it before the next meeting.
We, along with the publishers of FireworksOverToccoa.com, want to solve this problem for you. That's right, we want to give you up to 12 copies of the book so that you can discuss it in your April or May bookclub.
You'd need to commit to meeting in April or May to discuss the book, which probably would involve switching some things around — but we'll send you the books, so it's probably worth it, right? Then you can report to us and let us know how the discussion went. We'll even be posting some discussion questions here later this month, so that's another difficult task out of the way.
Fireworks over Toccoa is a quick, easy, read, but one that will evoke feelings and emotions and memories. I think that the discussions will be rich. Click on the title to read my full review over at 5 Minutes for Mom.
The books can be sent out to one person, or to each individual member of the bookclub (U.S. and Canadian addresses). Then you just have to set a date, and get reading!
If you are interested in reading Fireworks over Toccoa for your next bookclub, send me an email at 5minutesforbooks AT gmail (DOT) com with "book club" in the subject line.
In the email let me know why you think that this would be a good fit for your bookclub, and when you would be meeting to discuss it.
I'll let you know before the end of the month if you've been selected (we're hoping to provide several bookclubs with books!), and the books will be shipped out at the end of the month, after the publish date of March 30.
You can read over 100 pages of the book right now at FireworksOverToccoa.com. You can also enter to win one of 300 books!
If you're a blogger, find out how 5 Minutes for Books is teaming up with the publisher to get this book in the hands of a lot of bloggers. If you read the book and post a review, you'll be eligible to win a $25 amazon gift certificate. Find out how you can be considered to receive a book in this post at 5 Minutes for Books.
Email me (see above) to nominate your bookclub to receive up to 12 copies of the book.
Read my full review of Fireworks over Toccoa at 5 Minutes for Mom to find out more about the book.
Check out our current giveaways. Subscribe to our feed. Follow us @5M4B on Twitter.

*Disclosure: This is a paid campaign with the publisher to help them reach bloggers and bookclubs. However, as always, our opinions are our own.