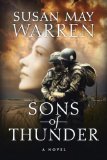 In the past few years, I have read several books by Susan May Warren, and they have all been enjoyable, light-hearted, and funny reads. In her new novel, Sons of Thunder
, Susan May Warren delves into the world of historical fiction, and her story captured my attention from the first page (for those of you who are devoted SMW fans, I do realize that she has written historical fiction before, but this is the first historical fiction book by her that I have read).
Sons of Thunder
tells the story of three young people, Markos, Dino, and Sofia, and their journey from Greece to the United States and back home again. Markos and Dino, who are forced to flee Greece when their tempers land them in trouble, vow to care for Sofia in their new lives. Unfortunately, their tempers and troubles follow them to Chicago and beyond, and all three characters find themselves lost and seemingly without hope.
Set in the years before and during World War II, this novel is an epic tale in three parts, one for each of the main characters. Unlike some Christian fiction novels, everything is not clean cut (I admit that I was surprised by some scenes, but I thought Mrs. Warren handled them realistically without unnecessary details). Markos, Dino, and Sofia make big, life-changing mistakes, and they struggle within themselves while also facing the violence of the Chicago mobs and the battlefields of Europe. After they have completely messed up their lives, these characters must decide whether to lose hope and drift through life or take hold of redemption. It is a choice that is surrounded by challenges and heartache, but a choice that could lead to love and forgiveness for them all.
Sons of Thunder
is part of a new line of romantic suspense novels by Summerside Press and is the first book in Susan May Warren's Brothers in Arms collection. Be sure to check out these links for more information. Additionally, Susan May Warren is hosting a contest to celebrate the release of her new book. Click HERE to read how you could win a prize package containing a gift certificate to create your own hardcover photo book, a 6 month membership to Netflix, and a signed copy of Sons of Thunder
.
Lauren is a wife, a mother of two, and an avid reader. She blogs at Baseballs and Bows. Lauren thanks Litfuse Publishing for providing the review copy of this book.