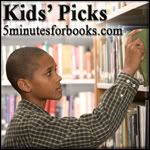 What book or books have captivated your child or children this month? Be it funny, scary, informative or all of the above — let us know. Other kids and parents are hungry for your suggestions.
Write up your kids' picks, or let them do a guest review themselves. Read more the detailed guidelines HERE).
For ease in searching, include your child(ren)'s ages or the book title in the link as well.
Sorry this was late today! I thought it was set to go (I figured it out! WordPress has to be manually changed for daylight savings time). The Tuesday posts should go up at 8:00am Eastern each Tuesday, except Nightstand, which alternates between 8:00am and midnight.
Visit our Join In page to find out all the details about all of our Tuesday community events.

Coming up:
Check out our current giveaways. Subscribe to our feed. Follow us @5M4B on Twitter.
Now it's your turn. Link up, directly to your blog post, or share your thoughts in the comments: