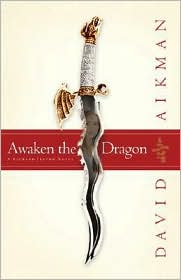 I was excited to receive this review copy in the mail. We have friends who adopted from China a few years back and since then both I (and my husband) have read and reviewed Safely Home (see his review here) causing us to become increasingly interested in China as a whole. When I saw Awaken the Dragon come through, I pounced on it.
I have to say that this book was not what I expected it to be. I was thinking Safely Home and Aikman was thinking more like John Grisham. It was an intense thriller of a book. Interestingly enough, it has been published before under the title Qi-A Novel (2005). It seems to have been republished with a different title (July 2008). Almost as equally interesting as the book title, is the author himself. He was a senior correspondent with TIME Magazine for a number of years, knows 6 foreign languages, has a broadcast career and is now an associate professor at Patrick Henry College. He is a brilliant man and that comes through in this book. His knowledge of Chinese history and culture is impressive.
That being said, I'm not sure what the entire point of this book was. By that I mean, I do not know what the underlying message was that I was supposed to receive. To me it was a story about a magazine correspondent sent into Guangdong, a Chinese province, to essentially rescue a missing CIA agent and enlists the help of the underground church in doing so. This book is a thriller, plain and simple. It's the epitome of a "guy movie" in book form. It is intense while remaining clean and respectful, and has great cliff hanger moments. It introduces the reader to Qigong, a Chinese martial arts and meditation movement. The protagonist in this story, Richard Ireton, is not a Christian but describes the history and practice of Qigong with its clash with Christianity very well. The way that Aikman explains and describes Qigong reminds me of the White Witch in Narnia who practices the "deep magic." However, as Aslan explains upon rising from the dead, after being killed by the White Witch, that there is a deeper magic still that the Witch is unaware of. That's the impression I got of Qigong. It is a deep magic and frightening. (But there is a deeper magic still!) Aikman was not aiming to talk of that deeper magic. He just briefly danced on the edge of Christianity and the underground church movement. It was not an in depth or invasive work on that topic.
If you enjoy reading about other cultures, religious practices and ways of life then I think you will find this book very fascinating. Like I mentioned, it is very clean concerning language and male/female relationships. (Ireton has a girlfriend and premarital sex is discussed but the girlfriend has a moral code which prevents any sexual relationship between them occurring.) The book started off slow (in my opinion) but quickly picks up the pace. Be prepared to avoid sleeping, eating, and/or engaging in any other productive activities while reading. It is a book that demands that you finish it quickly so that you can return to normal life. A thriller it is. A book with a clear point to make, it is not. That being said, I still think it's a great read. I think if you are interested in learning more about China and its religious practices, I would read both this one and Safely Home together. They make a really great pair and I'd be quick to recommend reading them back-to-back. Safely Home draws you in and Awaken the Dragon pounds the facts at you. I'm glad I've read them both. Awaken the Dragon, while being a cleaverly told story, is full of factual information so I think it is a very worthy read and am happy to recommend it.
Carrie comes by her book obsession honestly, having descended from a long line of bibliophiles. She blogs about books regularly at Reading to Know.