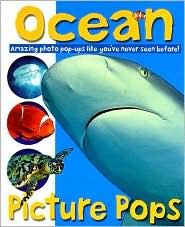 I've talked about Roger Priddy books for kids before. When I received the Picture Pops series (Dinosaurs, Ocean and Jungle) in the mail, I was ecstatic. But not as much as my son.
At 23 months old he sat down and spent 20 minutes going through the books when they arrived. Then later in the evening he asked to read a book. We were on the ground floor of our house and I knew there were some books on the floor in the next room over so I told him to go pick out a book and bring it back to me. Lo and behold, the next thing I know I find my child climbing the stairs (which he is not supposed to do alone). I followed up behind him as he made his way to my computer desk and pulled the Picture Pop books off in order to bring them to me. We spent another half hour before bed time perusing through these books (after we dealt with the stairs issue, of course).
This morning when he woke up the first thing he asked for was the dinosaur book. I don't need anymore convincing. We LOVE Roger Priddy books!
We love the colorful photographs of animals in this book. We've learned to identify new things like anemone and walruses. Because these are pop-up books, however, I do have to keep an eye on him as he looks through them. They are probably better suited for a 3-4 year old but my son doesn't realize that. He's lovin' them. For supervised reads, these are making our day.
Priddy Books do an excellent job at building a child's vocabulary as I mentioned when discussing the Happy Baby series. The Picture Pop books are the first toddler books in the Priddy series that we've seen and these won't be the last. Any friends that I have with toddlers in tow should know what to be looking for when it comes to birthdays and Christmases. I'm sold!
Carrie comes by her book obsession honestly, having descended from a long line of bibliophiles. She blogs about books regularly at Reading to Know.