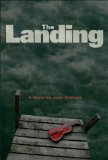 The Landing by John Ibbitson is geared toward an adolescent audience. It's the story of a 15-year-old boy living during the Depression era on a picturesque Canadian island. Life is rough, and it is hard to make ends meet. Ben longs to escape his bleak existence. His only respite from the hard work is his love for his violin.
Then a wealthy woman from New York moves into town for the summer and hires Ben to help her fix up her cottage. Ben gets a taste of a better life and is now more desperate than ever to escape.
Ibbitson is one of Canada's best known writers, and I enjoyed his knack for creating believable and likable characters. I was immediately sucked in by the Prologue and had no trouble reading this book from cover to cover on my 1.5-hour plane flight to Nashville last weekend. There is some mild language, but otherwise it is a good, clean read.
Jo-Lynne blogs daily at Musings of a Housewife, and she runs a beauty product review blog, Chic Critique