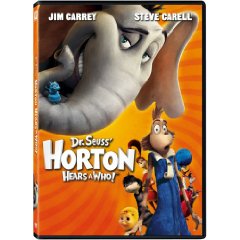 Last weekend we had family movie night featuring the new DVD Horton Hears a Who. My skeptical husband (who is not necessarily a fan of "family movie night") said, "How can they make a 90 minute movie out of a 30 page book?"
The kids and I saw this movie in the theater, and I remembered thinking what a great job they did adapting Dr. Seuss' picture book to a feature-length film, so I quickly replied, "Quite well, actually."
Jim Carrey (Horton) and Steve Carell (the mayor of Whoville) keep parents and children laughing. Seriously, the kids were guffawing, and one time Amanda (age 10) looked over at my husband and said, "Look — Daddy's smiling. He likes it too!"
This movie adaptation perfectly captures the whimsical Seussian world without it seeming too grim, as it sometimes does. The colors are bright and the people are delightful. The story is told with narration straight from the book (and additional narration that sounds as if it's straight from the book), interspersed seamlessly with scenes of dialogue and action.
The kids laughed (and yes, we laughed too), but the bigger themes really come through loud and clear, without being at all preachy: responsibility, the value of each person — and as a parent — letting your kids be who they are, not who we want them to be.
And of course there's Horton, the responsible elephant, reminding us often, "I meant what I said, and I said what I meant: an elephant's faithful 100%." Oh, how can you not just love Horton?
This is the best family film I've seen in a while. If you are looking for a last-minute Christmas gift for any kid on your list from three to ten (or just a special at-home treat for family time over the holidays), I couldn't recommend this one more highly. Why not package it with the classic book as well? I also noticed that there's even an audio collection (and you know how fond I am of audiobooks), or a gift set that packages the DVD, Horton plush, and an audiobook.
Managing Editor Jennifer Donovan is a contributing editor at 5 Minutes for Mom. She blogs at Snapshot about daily life with her tween daughter and preschool son.