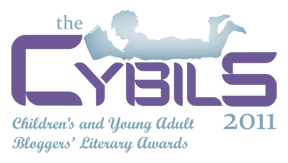 The Cybils finalist lists are out! Check out the site for the top picks in categories from young adult, to picture books, to poetry and more.
Dawn and I were thrilled to be invited back to serve as Cybils round I judges this year, her in fiction picture books and me in middle grade fiction.
For me (Jennifer), both this year and last year, I realized that there were going to be some very fine books that wouldn't see the shortlist. Take seven panelists, 142 middle grade fiction nominees, a shortlist limited to 5 to 7 books that should hit the target of being both well-written and oozing with kid-appeal, and there will likely be some books that just don't make the cut.
As a panelist, I was happy to discover several new books/authors that didn't make the cut. Buried in that list of 142 nominees, they might get forgotten, so I'm going to pull them to the forefront.
Please note that this isn't "sour grapes." Our middle grade finalist list is fantastic. The list of finalists is varied featuring books that are humorous or serious featuring kids who will look just like those reading it, or possibly will open their eyes to a whole new culture. I'm proud of each and every book on the list and happy that they will be getting some more attention.
That said, here are some others that really stood out to me (all linked to my reviews):
Now, when you talk picture books, I (Dawn) could talk your ear off. As a mom to two kids still in the age range for picture books, and as a preschool teacher, I live and breathe this genre, and I love every minute of it. The finalists in the Fiction Picture Book category are really some of the best books published in the eligibility period, in my opinion, though there are ones I love more than others on that list. There is one book, though, that I just couldn't convince the other round one judges to include, and I'm happy to put it in the spotlight here.
Stars by Mary Lyn Ray, and beautifully illustrated by Marla Frazee, impressed me from the moment I picked it up. I looked at it in a bookstore, since it was still too new to be in my public library, and I immediately knew I would be purchasing it that very day, which is not something that I do on a whim. Magic oozes from this book, inviting children to use the imaginative power that comes naturally to them when thinking about all the ways stars can play a part in their lives. And just as in another of my favorite books illustrated by Frazee, All the World, the art perfectly complements the text and the illustrations of children are naturally diverse and alive with emotion. (Incidentally, these illustrations definitely helped All the World win the 2009 Cybils Award, and the 2010 Caldecott!) Though this is definitely a quiet read, I can personally attest to its kid appeal from my experiences reading it to the rapt audiences of my own children and my class of three and four year olds, who all sat big-eyed with wonder. I'll be giving Stars as a children's gift for years to come.
Don't miss a thing: Check out our current giveaways. Subscribe to our feed or video reviews on YouTube. Follow us @5M4B on Twitter or on Facebook.
Jennifer feels the same way about being a Round I panelist as one feels after having a baby. She might like to do it again, but doesn't want to talk about it right now. Let's just appreciate this baby! She blogs at Snapshot.
Dawn juggles teaching, parenting, and reading on a daily basis, sometimes hopping back over to give her blog, my thoughts exactly, a bit of attention, too.