I first became aware of Dee Garretson when I read her first novel Wildfire Run (linked to my review) when it was nominated for a Middle Grade Fiction Cybils award***.
After reading Wolf Storm, I'm happy to report that she's 2 for 2 in creating easy-to-read, exciting stories that elementary and middle school kids will love.
Wolf Storm takes us on set in cold, desolate Slovakia where they are making a futuristic fantasy film starring 3 kid-actors: Raine, a bona fide teen queen, Stefan, a relative newcomer in the acting biz, and Jeremy who is the protypical little brother, sometimes cute and endearing and other times annoying. It also stars some tame trained wolves, as you might expect from the title.
Raine and Stefan have not been getting along on set, and Stefan is worried that if Raine insists on it, as she's been hinting, he might lose his job or be killed off in the movie.
One night, a blizzard hits when most of the adults are away from the lodge where they are all staying. The three kids (young teens and 8 years old) are alone with fellow actor, senior citizen Cecil, and the kitchen staff when disaster strikes. The power goes out, they have to bring the wolves inside, but then all power goes out, and an avalanche destroys the lodge.
The beginning was just a tad slow getting started, but the characters had to be established and there were a lot of cool scenes featuring facts about acting, special effects, and the on-set wolves that will interest kids. But about 1/4 of the way in, when Jeremy discovers that all the adults have gone, the action really picks up.
This is a great story, because the kids get to be the heroes. They have to figure out how to solve their problem and have to overcome all the obstacles thrown their way.
Other than intensity (which some younger kids can't handle), it's a very appropriate middle grade read from 3rd grade on up, but the plot and story is so exciting that it will hold the interest of middle-schoolers as well.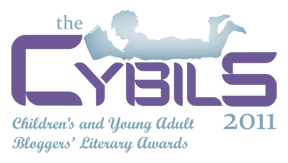 ***By the way — the 2011 Cybils are here! They've put out a call for judges (you can apply until September 15), and announced a new category, and as always, nominations will be open in October.
Jennifer Donovan loves being exposed to quality children's literature that she discovers in libraries, on blogs, and in this case when books just show up on her doorstep. She blogs at Snapshot about other things she loves.