Kids and adults alike are drawn to stories about man's best friend. This selection of Cybils Middle Grade Fiction nominees will reach a wide range of ages and interests.
Though I am a Round I panelist in this Middle Grade fiction category for the Cybils, my opinions are solely my own and are not meant to reflect the final outcome.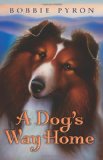 All animal lovers wish they could know what animals are thinking. In this book, the author skillfully shows the love of a girl for her dog and a dog for his girl. Abby and Tam are separated on the way home from a dog show where they were competing when her kennel falls out of the car during a bad accident. They are many miles from home, but Abby doesn't give up. She's got to find Tam. In alternating chapters, we hear both sides of their stories. Tam is determined to return to the girl he loves, and through bad weather, hunger, and danger, she continues on her journey.
In addition to the interesting dog's POV, there are other relevant themes as Abby deals with her loss, and then a move on top of it all.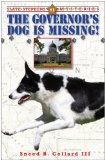 This book has a lot of the typical things that occur more in children's fiction than in real life: a mystery that the young hero and heroine can work on and boy/girl best friends, and as the title indicates, the story features a much-loved dog in high places who has gone missing. There are some plot items that are more for an older tween, like Slate and Daphne are, such as Slate making fun of her obsession with the Twilight-esque series of books, but overall it feels like it's written for younger readers. In my opinion, this book has a niche market. It's short length and simple story are ideal for 10 – 12 year olds who aren't strong readers, but it might appeal to kids who love mysteries and animals.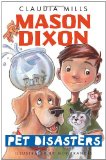 Mason's parents are convinced that he should have a pet. However, he's not so sure. And he has a bad track record — overfeeding Goldfish, letting Hamster get away, and exacerbating his best friend's allergies with Cat. But when a sweet 3-legged dog comes into his home, he figures out that he might have room in his heart to love a pet after all.
In addition to the fun pet angles, this is a great summer story which includes day camp and friends and enemies. This is the first in a series that is ideal for younger or less-proficient readers.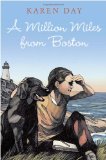 In spite of what you might infer from the cover, this book was published in 2011. Judging it by it's cover, there was nothing at all that drew me to this book. But I hope that kids will give it a change, because once I started reading, I got drawn into Lucy's summer on Pierson Point, Maine. It is a million miles from Boston. The way she spends her days are different (in this case, running a day camp for the little kids in town). Her interactions with friends are different (Could she actually become friends with obnoxious classmate Ian, who is new to the summer community?), and at her summer home, she doesn't have to think about her dad's new girlfriend. The dog doesn't figure as prominently as in some of the other books in the post, so dog-lover or not, this book will be enjoyed by girls who like realistic fiction.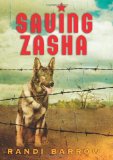 Did you know that during World War II almost all the dogs in Russia were destroyed? Many had been used during war and others, like the German Shepherd, were killed off and even outlawed because of the association with their German enemies. Thirteen-year-old Mikhail and his family have definitely been affected by the war. They don't have much money, and they are losing hope that his father will ever return. When he finds a dying man who has a beautiful German Shepherd with him, the love of a dog gives them all the lift they need. The love for this dog and her beauty is tangible in the pages of the book, worth all the danger that his family must endure to hide her.
This book captured my heart. It is a great book for boys and girls, age 9 and up, but I think that it's an especially good fit for boys. At this writing the Saving Zasha audiobook is available for less than $6 (I haven't listened to the audio, but I thought that offer was too good not to pass on).
I think that any of these books would make great gifts for dog-loving kids, but audiobooks might also be appealing for those who don't like to read. They are great for entertaining kids while traveling, and this would be one the whole family could listen to and enjoy.
Don't miss a thing: Check out our current giveaways. Subscribe to our feed or video reviews on YouTube. Follow us @5M4B on Twitter or on Facebook.

Though it's a challenge, Jennifer Donovan can't imagine one more fun than reading as many of the nominees as she can in this 2 1/2 month timeframe. That's one reason she doesn't blog at Snapshot so much anymore.