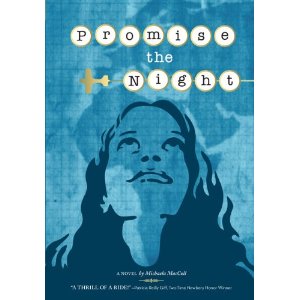 Everyone knows the name Amelia Earhart, but what about Beryl Markham? She was one of the first women to get a commercial pilot's license, and one of the first to successfully make a solo flight from Europe to North America.
Promise the Night by Michaela McColl is a middle grade novel that looks at her life, growing up on her father Captain Clutterbuck's horse farm in British East Africa (now Kenya). It's a fascinating setting, complete with wild animals and Beryl's defacto inclusion in the nearby Nandi tribe. Hunting and fighting with them taught her courage and living with only her father developed her strong sense of individuality and self. She believed that there was nothing she couldn't do.
Interspersed with stories from her growing up years, about 11 to 14, from 1912 to 1915ish, are news stories and Markham's own accounts of that flight she took in 1936, not the "easy way" West to East, but flying towards the dark against the wind from East to West.
Boys and girls who love interesting settings and/or flight will be as charmed by Beryl Markham as I was. Michaela MacColl's Prisoners in the Palace is another of example of her well-written and engaging historical fiction. I think that one is more for 11 and up, whereas Promise the Night is a solid middle-grade novel that would appeal to boys and girls 9 – 12 years old.

Jennifer Donovan loves to read about exotic locales. She blogs at Snapshot about her travels, when she manages to get away.