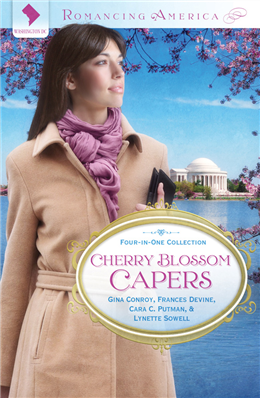 Cherry Blossom Capers is a fun novel — actually four related novellas written by four different authors. Each story stands alone, but recurring characters and settings tie them together. Each are less than 100 pages, so for those of you who don't have the focus for an entire novel, this is a great way to have a sense of completion when you are able to devote time to reading.
I don't usually read light mystery or romances, which is what this collection is, but it was truly relaxing, and after spending a few days with these novellas, I totally understand why so many bookworms spend most of their time with these genres.
The four women in these novellas have several things in common: Living in the Cherry Blossom Estate Townhomes in Washington, D.C, their Christian faith, their devotion to their jobs (though they are so different, from attorney to White House chef to coffee shop owner to archeologist/student intern), and hearts open to love (whether they've admitted it to themselves or not). Each novella features a different main character.
Tara is a White House chef who comes face to face with an old flame when the FBI gets involved in a possible plot against the White House. Ciara is an attorney who gets involved with a former colleague when they find a judge dead in his chambers. Samantha Steele is a widowed mother whose first day on the job is sabotaged when her rambunctious son destroys a priceless artifact, later revealed to be a fake. Coffee shop owner Susan investigates all the "accidents" that seem to be happening to her with the man that is renovating her late-uncle's home.
They are all so different, yet they are all searching for meaning in their lives. They support one another as casual friends, getting together for classic movie nights each week, but they long for more security and purpose.
This was particularly fun to read, because one of the authors is Gina Conroy, who went way back to my early days of blogging with her Portrait of a Writer. . . Interrupted blog and is the mastermind behind the group blog Writer. . . Interrupted. Other authors will likely be familiar to you as well: Cara Putman, Lynette Sowell, and Frances Devine. It's really exciting to see "one of our own's" dreams come true!
Gina's story "Buried Deception" was full of excitement as Samantha Steele and former cop-turned security guy Nick get right in the middle of a mess when they begin uncovering forged artifacts replacing ones that have been stolen. She becomes a target, and so each page is filled with a new threat.
You can win a copy of Cherry Blossom Capers by leaving a comment here (U.S. addresses only). We'll announce the winner in our Wednesday giveaway column on January 18. The giveaway is closed.
Cherry Blossom Capers is part of the Romancing America series by Barbour Publishing, which all seem to follow this same pattern. It's a fun concept, and the titles are very reasonably priced.
Since I am a Christian myself, I do relate to characters who acknowledge God's hand in their lives, but when one of the sentences in a very brief overview is "Will God protect them in life and love?" I automatically expect something cheesy and contrived, but these stories did not go in that direction, thankfully.
Don't miss a thing: Check out our current giveaways. Subscribe to our feed or video reviews on YouTube. Follow us @5M4B on Twitter or on Facebook.

Jennifer Donovan loves Washington D.C. and is thankful that she's able to see the beauty at Christmas each year and has seen the fireworks at the Washington Monument more than once, since her in-laws live there. She blogs at Snapshot.