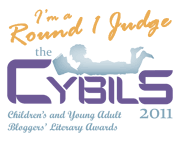 For the Cybils Round One Judges, our work is almost done, and soon the shortlists will be passed on to the Round Two folks. Before the announcements of the shortlists on January 1, I want to share with you three titles that bring classic stories or rhymes to new life. All three of these beauties have gorgeous illustrations, to boot!
The classic story that begins with a large item of clothing that transforms into smaller pieces as it wears down over the years has been told in various forms. Boni Ashburn's I Had a Favorite Dress takes a new angle on the story, starting with a young girl who adores her pink dress, until she finds one day that she has outgrown it. Well, a mom who is handy with a sewing machine turns that dress into a shirt, and the girl is delighted. But, of course, that young girl doesn't stop growing, and soon the sleeves are too tight and short, so more snipping and sewing take place, and soon, a cute tank top becomes the girl's new favorite. On and on it goes in the same fashion, and along the way, the mother helps the daughter learn to cope with the inevitable changes that come along in life. Several lessons are inherent in this story, about reusing and repurposing items rather than simply throwing them away, learning to be resourceful, and thinking creatively. It doesn't hurt that the young girl's character is cute and sassy (in a good way), and she appears quite authentic and relatable to young kids. Another fabulous extension activity for children would be to compare it to other picture books that tell similar stories, such as the beloved Joseph Had a Little Overcoat by Simms Taback.
One classic children's story can be conjured up with two simple words: "Not I!" In Rebecca and Ed Emberley's new insanely-colorful version of The Red Hen, those familiar words are uttered time and again by the hen's lazy trio of pals, this time depicted as a cat, a rat, and a frog. (Okay, not by the frog who funnily enough only knows how to ribbit!) The telling of the well-known plot is traditional, but told in short and simple text, making it fun and accessible for the very young readers/listeners in your life. Really what the Emberleys have become known best for are their wild illustrations, and this one doesn't disappoint. Big blocks of bright colors grace every page, and kids are drawn to them like moths to a flame. If by the book's end you and your little ones are feeling hungry for cake of your own, you're in luck, because the "Red Hen's Simply Splendid Cake" recipe is included in the final pages. Yum!
I love that Jerry Pinkney's name will forever be preceded by the words "Caldecott Medal winner," for that recognition needs to be regularly reiterated. Pinkney is a genius illustrator of today, and his books will undoubtedly be revered by young children and their families for many, many years to come. This year, Pinkney published his illustrated version of one of the most well-known childhood songs out there, Twinkle Twinkle Little Star. It's clear as day that Pinkney studies the real-life animals that he features in his books, and the chipmunk in these pages is adorable and so life-like. Several page spreads have no words at all, and these pages invite readers to slow down and take a moment to quietly look at the illustrations, for there is much being told here! Truly this is a beautiful picture book that can be given to a new baby to be enjoyed for many years of his childhood.
Though I am a Round I panelist in this Fiction Picture Book category for the Cybils, my opinions are solely my own and are not meant to reflect the final outcome.
Don't miss a thing: Check out our current giveaways. Subscribe to our feed or video reviews on YouTube. Follow us @5M4B on Twitter or on Facebook.
Dawn juggles teaching, parenting, and reading on a daily basis, sometimes hopping back over to give her blog, my thoughts exactly, a bit of attention, too.