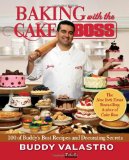 Rum babas dripping with gooey sweetness. Crisp canolis oozing creamy goodness. A cake that looks like it came from a professional baker, sparkling with snowflakes. Get your hands on a copy of Baking with the Cake Boss
and all this and more can come from your kitchen.
This book is fantastic. It's like a patisserie course between covers, available for you to follow at your own pace. It begins with Baker Buddy Valastro reminiscing about his childhood in the kitchen, the bakery where he grew up and learned all the tools of the trade. He goes on to discuss kitchen tools and ingredients, providing reasons why, for example, it's worth buying cake flour instead of just using all-purpose, or what a well-stocked kitchen will contain.
The recipe portion begins with cookies, goes on to pies and tarts, and ends up with cakes. This isn't necessarily the order a beginning cook should follow, but it does make for an easy thematic arrangement. Each recipe is fully explained and often illustrated with step-by-step instructions, especially if it's at all complicated. You'll learn how to deal with fondant, pipe filigree designs, make edible animals to decorate a zoo-themed cake, and much much more. By the time you've completed any recipe, you'll feel you took a class on it; and you'll be amazed at your prowess. The instructions are so thorough that it takes away any fear.
Baking with the Cake Boss: 100 of Buddy's Best Recipes and Decorating Secrets
is a gorgeous book. It would make a fantastic last-minute gift for anyone who's interested in learning more about baking, and since baking benefits everyone around you, it's easily justifiable as a gift for yourself.
Elizabeth loves baking and has the figure to prove it! Read more at her blog Planet Nomad.