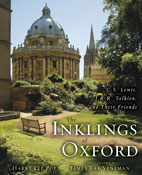 The Inklings of Oxford
: C. S. Lewis, J. R. R. Tolkien, and Their Friends is a stunning tour through Oxford and a brief exposure to one of the most brilliant group of friends who ever existed and swapped laughs.
Harry Lee Poe introduces his text to us as having been frustrated that a "pictorial" tour of Oxford had yet to be provided for the common man. He finally got tired of waiting for someone to put together such a book and decided to do it himself. He briefly considered taking the photographs himself but hastily agreed that James Ray Veneman would provide excellent visuals for those of us who can't make it to Oxford perhaps as often as we would like.
Consider this book the most fascinating walking tour you could ever possibly go on. (Excepting, perhaps, Prince Edward Island for obvious reasons.) Only in this case you can save your feet, save your money, curl up in your favorite chair with your favorite beverage and just, well, dream a little.
I'm trying not to become to irritated with myself, having now read through The Inklings of Oxford
. You see, I actually went to Oxford on a day trip with a group of friends when we went to England almost 10 years ago. We went on a tour with the dean of our law school who spent the whole day telling us about the glories, sights and sounds that were Oxford. He talked about Lewis and Tolkien and even took us to eat at The Eagle and Child pub where the Inklings cavorted with one another in poem, recitations and merriment. Why am I annoyed? Because I went to Oxford without having read anything by either Tolkien or Lewis and, at the time, had no idea what the good dean was talking about, really. I mean, I knew Lewis' NAME but that was about it. Furthermore, by the time I sat down to eat at the Eagle and Child, I was so dehydrated for not having had anything to drink all day long that all I could think about was my thirst and not the history of the place.
What an ungrateful and unprepared wretch of a traveler was I! I'm so ashamed. What I needed to have at least had, at that time, was read The Inklings of Oxford
(except for it was just released earlier this year). It is the perfect introduction to the town and whets your appetite for more of Magdalen College (yes, I toured it) and the Divinity School, which Lewis described as "the most beautiful room on Oxford" (and yes, I went in).
The Inklings of Oxford
gives you precisely the amount of information that you need to begin to appreciate the town, its history, and the people who have lived there. The photographs are beautiful and remind me of some of my favorite places (that I noted for the sheer beauty of them, not the historical relevance). As Poe says in this book, when a person goes back to Oxford, they find that they do have favorite places that they like to visit and just be. I would so love to go back and confirm that such is true! Only this time I would want to spend more than just one day there. I would like to sit, unhurried, in the Eagle and Child and just enjoy being. I would love to attend a morning prayer and evensong service. I would like to attend a concert at the Holywell Music Room, where the Lewis brothers frequently attended concerts. Unrushed, unhurried and more educated. If I could rewind the clock, that's what I'd wish for. As it is, I sat down with my three year old, cracked open this book and pointed out the landmarks to him. Someday he and I will walk these paths and we'll visit these places and together we will appreciate our rich literary heritage, birthed and bred in Oxford. It will be a true delight and I very much look forward to it. In the meantime, I dream.
Carrie comes by her book obsession honestly, having descended from a long line of bibliophiles. She blogs about books regularly at Reading to Know and Reading My Library.