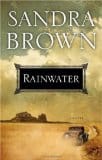 Rainwater is not the sort of book that I usually read these days. It's a book by a bestselling author which is bound for the mass market supermarket shelves.
However I saw the author Sandra Brown on a morning "news" show, and couldn't resist this story set during the Depression that is based on her grandparents' own experiences.
If you are a fan of Sandra Brown's thrillers, don't buy Rainwater just because she wrote it. From what I understand, it differs greatly from her normal style.
But for me this book was just what I needed.
I received the book a few days after seeing Sandra Brown talk about it, and uncharacteristically, I dug right in the day I received it. Two days later, I had finished it.
This is a sweet love story, rich with historical details, and with surprising story lines about such things as parenting an autistic child (before doctors had a diagnosis for it). I highly recommend it.
I'm planning to give this book to my grandmother, who lived through the Depression. Because she's older now, she doesn't read as much as she used to. I think it requires concentration that she doesn't always have. However, this book's length (only 256 pages) and familiar subject matter makes me think that she will enjoy it.
Jennifer Donovan writes about her family, including said grandmother who is still telling her own stories, at her blog Snapshot.