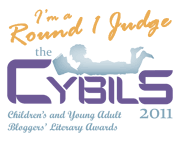 I'm sometimes a bit neurotic about books and how they are placed on their shelves. In my classroom, I like to make our bookshelves neat with similarly-themed books near each other, and at home, I often go for the basket option, keeping some nonfiction titles on one topic in one, while fairy tales and nursery rhymes go in another, and so on. The cool thing about it is that I find my kids, with minimal direction, can learn quickly to categorize the books on their own, too. For my Cybils-nominated books round-up this week, I'm going for three animal-themed stories, all of which I'd happily keep together on our bookshelf at home.
Sure, sharks aren't necessarily animals common to children's real-life experiences, but there is certainly a fairly common interest in these incredible sea creatures. We all know that they are fierce, so clearly they're not afraid of anything, right? Well, the shark in Bob Shea's I'm a Shark is confident and ready to tell readers about all the things that he can bravely face with gusto. Perhaps more discerning young readers will notice the discrepancies between the shark's words and his expressions, which will undoubtedly result in some giggles. But, if you happen to see a spider around, please don't let the shark know… a few pages into this funny story and you'll know why.
It seems to me that more new wordless books are showing up on my radar lately, and I couldn't be happier. Linda Ashman's No Dogs Allowed! joins the genre depicting a story of a waiter at a fancy sidewalk cafe who becomes increasingly worried about the potential of animals messing up the outdoor dining area of Alberto's City Lights Restaurant. His quick thinking leads him to switch up the message on the chalkboard, but what to do when the number of animals strolling by just keeps increasing? Surely, children will be entertained as the line of animals moves from the familiar to the more exotic. Will the waiter be able to handle the situation?
A cat's eye view of a shelter experience is depicted in Won Ton: A Cat Tale Told in Haiku by Lee Wardlaw. How might a cat be feeling as he awaits adoption? Well, this cat is talking, and to top it off, he only speaks in haiku, and each page features at least one of those 5-7-5 syllabled poems you remember from elementary school. This heartfelt story charmed even a non-pet owner like me, and I loved that it gave me an opportunity to introduce this poetry form to my youngest kids.
Though I am a Round I panelist in this Fiction Picture Book category for the Cybils, my opinions are solely my own and are not meant to reflect the final outcome.
Don't miss a thing: Check out our current giveaways. Subscribe to our feed or video reviews on YouTube. Follow us @5M4B on Twitter or on Facebook.
Dawn juggles teaching, parenting, and reading on a daily basis, sometimes hopping back over to give her blog, my thoughts exactly, a bit of attention, too.