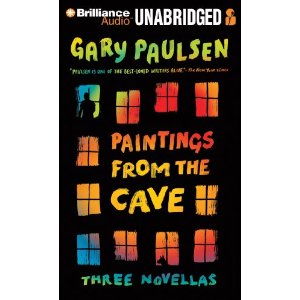 Wow.
Paintings from the Cave: Three Novellas isn't just three novellas. The fourth story is author Gary Paulsen's, who in the intro talks about his own upbringing in a "bad home" and how he was saved by art and dogs. He also shares about a particular visit he made as an author to some underprivileged kids.
Then he invites us into the fictional world — that is now given a lot of credibility — of Jake, Jojo, and Jamie and Erik.
This is worth the price for Jake's story alone, told "In the Man with Iron Heads." Jake "J" is always on the run, staying out of sight of the drug-dealing thug Blade who will either recruit him, blackmail him, or hurt or kill him. One day he is looking out of his run-down apartment's building into one across the sidewalk and sees a man who seems to be working on some heads, and Jake is fascinated by the progress. J and Bill's paths end up intersecting, and I'll say no more about it, except that this is and extremely powerful story.
In the third story "Erik's Rules," Jamie and his brother also cross paths with someone who takes an interest in them. Greg and Jamie meet at the dog run, where Greg admires Jamie's sketches.
"Jo-Jo the Dog-Faced Girl" doesn't have any caring adults in her life, but she does have her dogs, and she and her dogs are able to help someone else in need.
I've purposefully left the details sparse, since good stories such as these are most appreciated if you just let them unfold.
This is a book that any adult who has a heart for lost kids should read.
The publisher rates this book as 10 and up, but I think that 12 is more in line, unless of course these 10-year-olds are like Jake, Jojo, and Jamie, in which case the realities presented here won't seem shocking or innocence-shattering as they would if my own suburban daughter had read them in 5th grade. Teen pregnancy, rape (sort of implied), drug-addiction, murder, homelessness, child-abuse are some of the mature topics broached. It's shared in a completely appropriate way, not meant to be provocative, but just a part of the sad reality of these kids' lives.
Highly recommended.
AUDIO NOTES: This is narrated by all-star audio voices such as Kevin R. Free, Nick Podehl, Sarah Grace and Jim Bond. I would have enjoyed reading this book, but hearing such personal stories that are so different from my own upbringing — giving them a voice — made even more of an impact, I think.
Jennifer Donovan enjoys reading novels and memoirs such as this because it moves her out of her comfort zone. She blogs at Snapshot.