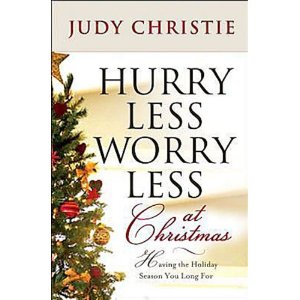 Judy Christie wants to help you Hurry Less, Worry Less at Christmas so that you can have the holiday season you long for. Are you in?
Perhaps you are shaking your head at the mere mention of Christmas here the week before Thanksgiving! But that's the point. This book not only gives you guidance about setting goals for the holiday you want (sticking to a budget, saying no to so many activities, focusing more on the religious meaning etc), but Christie also encourages you to use the true spirit of Thanksgiving to usher in the Christmas season. What's more, the book also takes you all the way into the New Year.
The book contains it all. The "Less is More" chapter not only deals with busyness, but spending and overeating. Does that not sum it up?
Each chapter closes with "simple tips from friends," which are just as the title suggests — simple, real-life, workable tips that you can consider using this very holiday season.
This book is published by Abingdon Press, a Christian publisher, and there is a very meaningful chapter "Growing Stronger Spiritually," but other than that, many of these ideas could be used by those who get overwhelmed with the non-religious cultural elements of Christmas.
Go ahead — buy it now. It's available in paperback and ebook. It's a short book, so you can squeeze it in during this busy time. And if you end up winning, you can pass your copy along to a friend who needs it, and you can help each other stay accountable to your goals for a less hurried, more focused Christmas (There are even a few discussion questions for each chapter at the back of the book).
Mary gives her perspective on how she helps reduce holiday stress in her post and book review over at 5 Minutes for Faith.
Leave a comment if you'd like to win a copy. We'll announce the winner right here on November 30.
You can also get another chance to win by checking out Elizabeth's post over at 5 Minutes for Mom and leaving a comment over there. Having recently returned from living in Morocco, her Christmas experiences are something to check out! The giveaway is closed.

The winner of the latest Mother Daughter Bookclub novel Home for the Holidays is #24 Rebekah.
Don't miss a thing: Check out our current giveaways. Subscribe to our feed or video reviews on YouTube. Follow us @5M4B on Twitter or on Facebook.
*This post is part of a sponsored campaign with the publisher, but of course my opinions are my own.
Jennifer doesn't get too hurried or worried during Christmas, but she appreciated the extra encouragement not to get too overwhelmed. When she gets busy, blogging at Snapshot is one of the first things to go.