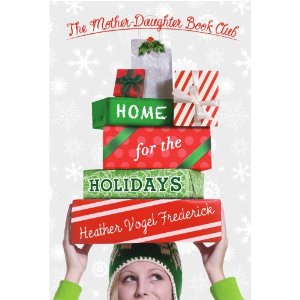 Amanda (now 13) and I have read the four books in Heather Vogel Frederick's Mother-Daughter Bookclub series together in the last 3 years (Check out my links to all my thoughts and reviews on the first 3 books HERE, as well as my review of the 4th, Pies and Prejudice. I'm not sure who gets more excited when a new book comes out — Amanda or me.
Home for the Holidays released earlier this month, but we didn't end up getting our copy, and with me swamped by all of my Cybils Round I reading, I didn't follow up. However, don't let that be an indication of any sort of lost-love of this series. I honestly think that we've enjoyed each book more than the last, and though I don't usually post giveaway-only posts without having read the book, I am making an exception here based on my excitement about the series.
Because the books feature a mother-daughter book club, as the series title indicates, it's always fun to discover the book within the book, and this time around it's Maud Lovelace's Betsy-Tacy, specifically Betsy in Spite of Herself. So, I've requested that book at the library so that Amanda and I can reacquaint ourselves with Betsy, specifically getting to know her as a teen, which is where the plots intertwine in this book.
The publisher's blurb says this about Home for the Holidays:
This Christmas season, join the girls of the mother-daughter book club for a variety of holiday-themed adventures! Becca, Megan, Emma, Cassidy and Jess have plenty of reading material to bring on their trips, too, because the book club is tackling the Betsy-Tacy series before their next meeting on New Year's Eve.

But unfortunately, nothing goes quite as planned for any of the girls. On a Christmas cruise with their families, Megan and Becca fight over the dashing son of the ship's captain. Cassidy and her family fly back to California to visit Cassidy's sister Courtney… but when the West Coast causes homesickness for their former life in Laguna Beach, the family begins to question what state they should call home. And a disastrous sledding accident causes both Emma and Jess to completely change their holiday plans.
Not only are Amanda and I excited to dig in to this latest installment ourselves, but I am happy to be able to send a copy to one of you, courtesy of the author. In the past, I haven't felt like you needed to know all the background to enjoy the book on its own, so if you like holiday stories, young YA, or are a Maud Hart Lovelace fan, I think you should check this one out.
Leave a comment if you'd like to win a copy of Home for the Holidays (U.S. residents only). I'll announce the winner on November 16. This giveaway is closed.
The winner of Reclaiming Lily is #8 Joy.
Jennifer Donovan knows that there's a lot she's done wrong as a mom, but sharing books with her kids is something that she (and hopefully her kids) will always remember as something very right. She also blogs at Snapshot.
Don't miss a thing: Check out our current giveaways. Subscribe to our feed or video reviews on YouTube. Follow us @5M4B on Twitter or on Facebook.