I'm not just talking dogs and goldfish. These novels feature kids who really have a heart for animals, and though they might not have wide appeal, I think they are perfect suggestions for those kids who love nature and all God's creatures.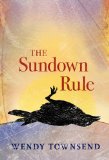 The Sundown Rule by Wendy Townsend — Louise lives a quiet, nature-drenched existence with her dad until he's called out of the country on a writing assignment, sending Louise to live in suburbia with her childless aunt and uncle. She loves them, but she misses her life exploring and caring for animals. Her father has similar interests and encourages her interest in animals, and even allows her to bring them home, stipulating the that she return the animals to their habitat by sundown, hence the title. Her aunt is allergic to animals and squeamish about many other things in nature, so Louise's interest is not encouraged there. In addition to the topics of love and loss of animals, there is a strong theme of friendship, which adds to this nice quiet story about dealing with change.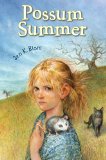 Possum Summer by Jen K. Blom is set in contemporary times, but because of its rural Oklahoma setting, it feels somewhat historical or mythical, because of the unfamiliar setting to most kids of today. However, there are probably a few kids who still lead that kind of "Free Range" run-of-the-farm type existence who might see a kindred spirit in P (short for Princess, a name she hates to be called). On one morning, she's out exploring with her dad's cow dog, a big no no, but since he's off serving in the military, she's trying to turn him into a pet. The dog kills a possum, leaving a baby possum behind. P can't just leave the baby possum, so she takes it with her, but she has to keep it under wraps (literally, the possum is often wrapped in her shirt).
Other themes that come out in this novel are sibling relationships, military deployment, and consequences to disobedience (in a growing/learning/understanding sort of way — not a preachy lesson tone).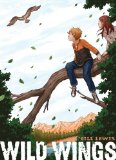 Wild Wings by Gill Lewis sort of surprised me. The cover wasn't very appealing to me, and I didn't have a good indication of what it might be all about, but it started off as an interesting friendship/misfit novel when loner Iona is run off of Callum's property by his friends. Iona and Callum end up bonding, specifically when Iona shows him a rare Osprey's nest right on his property. Because of what I'll refer to as a "Bridge of Terabithia" moment, I would make sure that whatever child you give this to has the emotional maturity to handle some disappointing situations. As Callum and Iona track the migrating Osprey, there are some other tense moments, but both of those events lead Callum to do some brave and selfless things involving another sick little girl on the other side of the globe.
This is definitely a book that animal-loving kids would enjoy, especially if they have a fondness for birds, but there's also a really nice tale of friendship and courage in between the pages that would appeal to a larger audience.
Though I am a Round I panelist in this Middle Grade fiction category for the Cybils, my opinions are solely my own and are not meant to reflect the final outcome of our panel deliberations.
Don't miss a thing: Check out our current giveaways. Subscribe to our feed or video reviews on YouTube. Follow us @5M4B on Twitter or on Facebook.

Though it's a challenge, Jennifer Donovan can't imagine one more fun than reading as many of the nominees as she can in this 2 1/2 month timeframe. That's one reason she doesn't blog at Snapshot so much anymore.