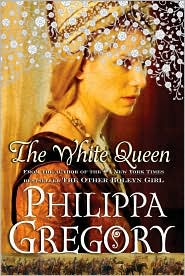 I knew nothing about Philippa Gregory books when I was offered a chance to read her latest novel, The White Queen
. I've seen her books around and have been curious, but not being familiar with her at all, I've always took a pass. I know that Gregory is a New York Times bestselling author but I confess that's not something that usually moves me towards books. However, now that I have read The White Queen
, I can see why she has received such rankings. She is an amazing story teller!
What I did not realize (until I finished the book) is that The White Queen
is historical fiction based on fact. This book is the first in an apparent series about The War of the Roses in England back in the 1400's. The White Queen is none other than Elizabeth Woodville, who was not born royalty but married into it when she fell in love with the King of England (or, the one who was conquering England at the time in order to be king!).
The book opens with an introduction to Elizabeth as a descendant of the French Water Goddess, Melusina. Elizabeth's mother is gossiped to be a witch and Elizabeth herself seems to be following suit. The book details Elizabeth's rise from the daughter of a nobleman to the Queen of England and concludes with her grown children's struggle to maintain control of the throne in an unstable society, ruled by greed.
I thought the story was well-told. As I said, Gregory is a master story teller. She is a little too gratuitous for my taste in the sex department, but discrete enough that I was able to move through the story without too much personal discomfort. Elizabeth and her husband are very much in love and Gregory leaves no doubts in your mind about that. I really didn't know how many times they were bedded but that seemed a fact Gregory didn't want to overlook. Between the two of them, they produced eight children so you can gather about how many times their bedroom behavior was talked about (as I feel I should mention –a little too frequently for my own tastes). Gregory is also very interested in mysticism and definitely plays up Elizabeth (and her mother's) mystical practices. Curses and spells play a big part of this book. Now, if you know me and my reading tastes, you've got to be wondering why I even bothered reading (and or finishing) this book. I'm writing this review, despite my theological and comfort-zone reading preferences because Philippa Gregory is an engaging author.
Simply stated: I could not put this book down.
Upon completing The White Queen
I ran off and checked out Philippa Gregory's website which gives me details about the royal family and their lineage. She has clearly done some excellent research and offers a Bibliography in the back of the novel to back up her work. The list of books and reviews she read are impressive including interesting to dry historical readings. (I love history but I have to confess that The Wars of the Roses: Military Activity and English Society, 1452-97
doesn't really excite me.) I'm impressed. Again, I don't care for her taste in the occult and I think she could have left the king and queen's love life to our imagination but beyond those things Gregory really ought to be admired for making history come alive and be positively engaging. I can clearly see now why she has garnered the following that she has and for her work I think she deserves it!
Now for some fun stuff!
Would you like to win a copy of this book? Publishers Simon & Schuster have graciously offered two copies to go to two of our 5 Minutes for Books readers. To win, please leave one (and only one!) comment below. U.S. Residents only please. We'll announce the winners in next Wednesday's giveaway review post.
In addition, Simon & Schuster are also hosting their own contest to celebrate the release of The White Queen. Want to win a trip to England?! (Raise your hand if you do!) CLICK HERE to enter the Simon & Schuster sweepstakes contest.
Lastly, you can click here to watch a video of Philippa Gregory introducing her book and reading an excerpt.
Subscribe to our feed. Follow us @5M4B on Twitter. Enter our other giveaways.
The winner of The Vaccine Answer Book is #6, Ali
Congrats also to #52 Tonya, who has won a copy of Up for Renewal.
Carrie comes by her book obsession honestly, having descended from a long line of bibliophiles. She blogs about books regularly at Reading to Know.