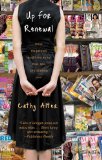 In the opening chapters of Cathy Alter's memoir Up for Renewal: What Magazines Taught Me about Love, Sex, and Starting Over, the depiction of the state of her daily life is actually pretty bleak… as in I literally cringed at some of the self-destructive decisions she was making. When she decides to let the glossy pages of women's magazines help her to find a healthier and happier path, she begins the year-long adventure that is chronicled in this memoir.
"For the ensuing twelve months, I resolved to turn my life over to a stack of today's women's magazines and follow their advice without question. The method would be pretty simple: to focus on one specific beauty, fashion, fitness, diet, spirit, relationship, or job-related task and then adhere to, for that entire month, the articles that best addressed my goal. Every month, a new challenge, another damage zone to assess and improve upon."
With an ever self-deprecating tone, harsh honesty and a no holds barred vocabulary, Alter shares her fears and her failures, along with her hopes and aspirations, some of them simple, some of them significantly deeper. Sure, she'd like to eradicate those jiggly upper arms, but she'd also like to experience a dating relationship that is based on mutual respect, as well. While I initially worried that her pending transformation would involve purely shallow pursuits and events, I was very pleasantly surprised by her willingness to suffer a bit of introspection, and I respected her ability to really cast off in a new direction in many important aspects of her life. As she begins work on the external, the beginnings of meaningful change to the internal take shape, resulting in serious growth and development by year's end.
Irreverently funny and full of earnest heart, Up for Renewal had me cheering by the final pages for Alter's change in perspective, and especially for the rewards she reaped from her year's efforts.
Want to witness the transformation yourself? We have one copy to give away– just leave a comment here. (US residents only, please.) The winner will be announced on 9/23.
Dawn adores reading memoirs, and she sometimes pretends that she's writing her own life's story on her blog, my thoughts exactly.
Subscribe to our feed. Follow us @5M4B on Twitter. Enter our other giveaways.