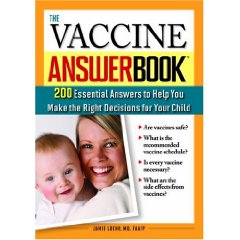 If you have children, then you likely have questions about vaccinations. Enter: The Vaccine Answer Book
: 200 Essential Answers to Help You Make the Right Decisions for Your Child. I was excited to see this book because I do have questions about the safety and health benefits/dangers wrapped up in vaccinations. Sometimes I wonder if the benefit is not overwhelmed by the risk and since we have a family history that contains some bad reactions to vaccines, we've been pretty cautious with our children.
This book was written by Dr. Jamie Loehr, M.D., F.A.A.F.P. and in the introduction to the book she tells you straight up that she is pro-vaccination. She supports what she calls the "herd immunity" approach which is pro-everyone being fully vaccinated. That said, she also says that she supports parents who feel that the best thing for their child is to eliminate some lesser important vaccinations and/or a less rigorous schedule. I appreciate her honesty in stating what she believes up front, and her flexibility in acknowledging that parents have the ability to make good decisions for their children. That is a really crucial opinion that catches my attention whenever stated!
The Vaccine Answer Book
takes a step-by-step approach to vaccinations, first explaining the benefits and what might happen if we stopped various, individual vaccinations. Then she walks you through the vaccinations themselves, including timelines, explaining what each one is, what it does, what the side effects might be, and what the overall benefit is from receiving it. These are the questions she asks:
"How effective is the ______ vaccination?"

"How serious and how common are the side effects . . . ?"

"What are the medical reasons not to give the ____ vaccination?"
She concludes each round of questioning by stating her opinion on the medication in question. Fabulous resource book!
I highly recommend it as it is written very knowledgeably and yet it still assumes that the parents have brains and know how to use them. Again, I really appreciate that (because it's true). Questions about what is the best and healthiest thing for your child and your family? Check out this book!
Would you like to WIN a copy of this book? Sourcebooks, the publisher, has generously offered a copy to one reader. To win, please leave a comment below (U.S. Residents only, please). We'll announce a winner in next Wednesday's giveaway post.
The winner of last week's giveaway The Hiccupotamus is #32 Jen N, and the lucky recipients of the Catching Fire package giveaway are #92 Emily, #85 Jennifer R, and #100 Kawthar A.Kabir. Congrats!
Carrie comes by her book obsession honestly, having descended from a long line of bibliophiles. She blogs about books regularly at Reading to Know.
Subscribe to our feed. Follow us @5M4B on Twitter. Enter our other giveaways.