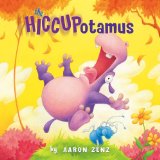 Having the hiccups can be quite the amusing experience for a young child, and as a parent, I jump on any opportunity that I get to be goofy and loud with my kids, so when one of them gets the hiccups a whole lot of boisterous hiccupping by everyone follows. Aaron Zenz provides the perfect accompaniment to these playful moments with The Hiccupotamus— a delightful picture book chronicling one poor hippo's trouble-causing hiccups.
Told in four-line rhyming stanzas, Zenz meets the challenge of finding words to rhyme with hippopotamus and therapy, by simply playing with language (like preschoolers are so fond of doing as well!) and creating his own silly, yet familiar-enough sounding words like bottomus and nightmareapy. I am a personal fan of books that get children giggling around funny words that stretch their imagination, and this one definitely falls into that category! As anyone who has ever had those hard-to-kick hiccups knows, when you're really desperate to be free from all that hiccupping, you'll try just about anything, and The Hiccupotamus is no different. We have the joy of watching the mostly disastrous trials play out, all the while crossing our fingers for our new hippo friend.
With a palette of bright, popping colors and cartoonish characters complete with big round eyes and adorable expressions, The Hiccupotamus is a wonderful addition to any fun-loving preschooler's collection.
Now for the best part- giveaway time! One lucky winner will receive 2 signed copies of The Hiccupotamus- one to keep and one to share with a friend! If you'd like to win, please leave a comment her telling us about your best hiccup-dissolving solution? (US residents only, please.)
This contest is now closed. Thanks for entering!
The winner of last week's giveaway Crossing Washington Square is #27 Melanie.
Also, please feel free to browse the current blog tour for The Hiccupotamus– more details can be found on Aaron Zenz's blog, Bookie Woogie.
Dawn swears by holding your breath while hopping on one foot and winking in an alternating pattern to get rid of the hiccups. She likes to spout other nonsense at her blog as well, my thoughts exactly.
Subscribe to our feed. Follow us @5M4B on Twitter. Enter our other giveaways.