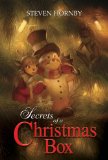 While it may only be September, I recently had the opportunity to read Steven Hornby's debut children's novel, Secrets of a Christmas Box, and I was immediately transported to that wondrous wintry time of year that ushers in the holiday festivities. While I'm not quite ready to put up our own Christmas tree for a while now, I do have to say that I'm pretty sure I won't be looking at our boxes of decorations with the same eyes this year.
This middle-grade novel creates a world inhabited by the Christmas tree ornaments and lights in one suburban family's collection, and the story opens with Larry, a glass snowman ornament, along with his girlfriend Debbie and a new-to-the-collection toy soldier dubbed Splint, searching for one of their own who seems 'not to have made it back' to the tree this year. They make the fateful decision to break the ultimate rule for the Tree-Dwellers, leaving the tree itself, in an effort to search out the Christmas Box where they are stored every year. Along the way, they find danger, adventure and challenges galore. The tone and pace of the action are just the right fit for an older elementary school audience, and Hornby paints a whimsical world in what has become a staple of every holiday season for so many children.
With suspenseful and surprising moments, Secrets of a Christmas Box makes for a great read during the holidays, and I personally look forward to sharing this story with my own nine year old this winter, as I imagine it is best experienced- snuggled on the couch in front of a warm fire, under the glow of our own decorated tree. I predict that each time I glance in the tree's direction, I'll be watching for any sly movements amongst the ornaments. You never know, right?
All Dawn wants for Christmas is a happy and healthy family, and perhaps more time to blog away at my thoughts exactly.