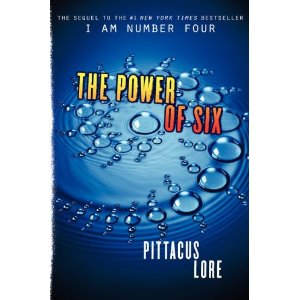 When Amanda and I were browsing the YA section of our local Half-Price Books looking for some books to take on our summer vacation, Amanda asked, "Can I read the books of Pretty Little Liars?" (knowing that I've already forbidden the TV show that so many of her friends watch). I told her no. I had given in to The Clique, even though I wasn't crazy about it, but at least the girls in that series are her age.
She continued browsing, and eventually picked up I Am Number Four. I didn't know anything about it, other than they made a movie about it. The bookstore employee said, "That book is very popular. It's pretty good if you are looking for books that aren't just about girls being mean to each other."
Bingo!
When Amanda found out that the second book by Pittacus Lore was coming out, The Power of Six, she definitely wanted to keep reading. I haven't read either of them, so I can't really say much, but for some reason I feel safer with sci-fi/fantasy teens than modern day ones.
Here are her thoughts on this book:
This is a continuation of the first book, and definitely lived up to expectations. I can't give a lot of detail, so I don't give away the first book, but this The Power of Six is the story told by John Smith, also known as Four, and Marina, also known as Seven. John's story is a continuing one, so fans of the first novel will recognize him and his story. He has been reunited with Six, as they travel to find their 4 remaining allies. Marina is a new character who is telling her story from a convent in Spain. Her only friend is also her guardian, Adelina, who has turned her back on their home planet. Marina's only goal is to get out of the convict to find the other four.
If you aren't familiar with the first book, you'll need some background. Nine children and 9 adults (Cepans) were sent from thier home planet, Lorien, running from the Mogdorians, who tried to take over thier planet. They went to earth and pretended to be human, changing thier names and disguising themselves to hide from the Mogdorians that were still seeking them. By this book, the first 3 are dead, and they are all seeking to find each other and fight the Mogdorian army.
I thought this book was really good. It had a lot of adventure, and moved really fast.

Jennifer's daughter Amanda is an 8th grader, a trumpet player, an artist, a texter, and of course — a reader.