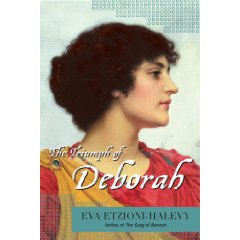 The Triumph of Deborah is Historical Biblical Fiction — think more Anita Diamant's The Red Tent as opposed to Francine Rivers' Lineage of Grace. In addition to this fact, it's not really about Deborah. Of course, she's featured in it, but the compelling story to me was of the warrior Barak.
Deborah is a judge in the time of Israel before they had a king. In that time, much more than today, it's a man's world, and she has to fight to gain the respect of some. Others however accept her God-ordained role of judge and prophetess.
Eva Etzioni-Halevy makes these characters come alive by putting them into situations that create dramatic tension which build suspense as the reader waits to see how their decisions play out in the story.
The intriguing stories of Deborah and Barak are intertwined with Sisra (the man who gained Biblical notoriety because he was killed by a woman) and his wife Asherah, along with her half-sister Nogah (who I loved!).
Historical fiction is not my favorite genre, but I do enjoy learning about another culture or time period while also enjoying a novel. I found The Triumph of Deborah to be a surprising sensual love story with a suspenseful ending.
(If you are at all interested in buying it, amazon actually has it offered at that fabulous bargain price. I can never resist those.)
Jennifer Donovan has a lot of books she's never read on her shelves because she couldn't pass up a bargain. Read more true confessions at her blog Snapshot.
This review (and others from this week) are linked up to Semicolon's Saturday Review of Books. Check them out or link up your own.