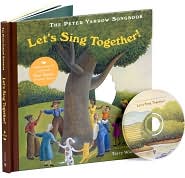 All I have to do is say the words The Peter Yarrow Songbook series, and I've already got most everybody's attention, right? Well, if not, then listen up, because Peter Yarrow has released a new title in his collection, and Let's Sing Together is as perfect as you can imagine it would be.
Having grown up with two musically talented parents (who had the nerve to pass down exactly 0% of their talent to me), I have fond memories of singing "Home on the Range" and "She'll Be Coming 'Round the Mountain" while my dad strummed on his guitar and my mom's beautiful voice thankfully drowned out my own off-key intonations. With this fantastic new book and CD, Peter Yarrow (of Peter, Paul and Mary fame, of course) shares with us a lovely collection of songs including those favorites of mine, and others like, "This Little Light of Mine" and "Down by the Riverside," highlighting some of the best folk songs around. Since it's Peter Yarrow, you know that you're guaranteed a voice to rival others, singing in the genre of music that his voice was apparently made for.
To accompany these beloved songs, I found the illustrations to be perfectly fitting in the mood and feeling of the music, with warm colors and soft lines, evoking a feeling of Americana to match the tone of the songs. For those families out there who enjoy belting out a tune together, Peter Yarrow's Let's Sing Together is the perfect addition to a home library and CD collection.
Even though she can't carry a note to save her life, Dawn loves to sing as much as she loves to blog at my thoughts exactly.