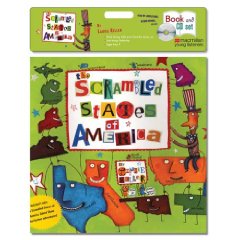 A while back Lauren reviewed The Scrambled States of America by Laurie Keller (and she liked it so much she included it on our list of 5 Star Reads). When MacMillan Audio offered me a preview of their new book and audiobook set, I knew that my map-loving son and I would have to take a look.
The Scrambled States of America audiobook is a perfect way to enjoy this silly, creative, and informative book. There's a LOT going on on each page, which is exactly the kind of book that both of my kids (ages 5 and 11) enjoy when I read it to them, but it's also the kind of book that I have to be in the right mood to read aloud.
That's where the audiobook version is perfect. Readers Lorelei King and Oliver Wyman employ different voices so that each of the states are easily differentiated. If you are familiar with the book, the little postcards at the back flap of the book are even included in this taped version. Because of the style that the book is written, it works best to use the book while following along with the audio.
The page-turns are prompted with a ding, and the first one even gives a reminder with the ding, "Now it's time to turn the page." Kyle kept up easily following along on each page (and chuckling aloud frequently).
Three of you can win this book and audiobook (U.S. residents only). Just leave a comment to enter.

This is part of the 2009 Back-to-School Giveaway. We'd love it if you helped spread the word!
Leave a comment on this post as your entry.
This giveaway is open to U.S. residents only. One entry per person.
New giveaways will be posted through August 26. Winners will be announced August 31.
Check out the list of the other giveaways in the 2009 Back-to-School Giveaway at the main post.