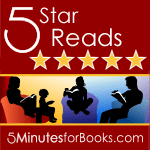 As you hopefully know, we've recently launched a 5 Star Reads category and page.
I was recently thinking about some of the books that I put on the list and why I designated them as my best of the best.
What makes a 5 Star Read for me?
It holds my attention. Whether or not I'm able to sit and read it straight through, a 5 Star Read is a book that I am always wanting to carve out time to read.
It's memorable. While I'm reading it, I'm thinking about it, and the plot or characters or information stays with me long after I've read it.
It causes a response. I might laugh, or cry, or fear, or think. But it generally evokes something.
I can't stop talking about it. This is perhaps the crucial difference of a 4-star or even a 4 1/2-star book. I not only enjoyed it, but I want everyone else I know to enjoy it as well.
So now I have two questions for you. Please take a moment and answer either or both in the comment field.
What qualities in a book cause it to rise to the top of the heap for you, giving it the highest designation in your mind?
What is a book that you've read fairly recently to which you would give this 5-Star rating?

Managing editor Jennifer Donovan is getting pickier and pickier about her novels. 3-star just doesn't cut it anymore. She also blogs at Snapshot.