Come along with me and explore my stomping grounds with Pacific Northwest (Eyewitness Travel Guides)
. I'm from Texas originally (but we don't need to talk about that) and moved to the Northwest getting close to 10 years ago now. When I arrived here I knew I would never want to leave. First of all, it was green. It was cool. Queen Anne's Lace grows here. And the coastline is GORGEOUS! I'm still exploring the area, having been quite occupied by work, then meeting and marrying my husband and then starting a family. Although my husband grew up here, there are many places that he has not seen either and so we've been taking mini vacations around the Northwest, getting to know it a little bit better.
I thought I'd check out DK's Eyewitness Travel book
for this region to see if it had any helpful hints or tips to offer. I'd never looked into one before and now I heartily recommend that if you are traveling to a new area, you pick up one of these travel guides and give it a whirl. First of all, it starts out by giving you a history of the area so that you aren't walking about ignorant of the land, it's culture or the people. (And yes, the Northwest does have its own culture!) The book then divides up into smaller regions, providing a map and highlighting points of interest. You can use this guide as a "tip" book, looking up interesting places or things to visit. Or you can really get into it and read about the area and get to know it. Basically you can use this book as much or as little as you like but it should be useful to you either which way.
A few weekends back, we traveled around the state a bit and hit up a few places that are on DK's map. We hit up Florence, Oregon which is on the coast and hung out around the National Sand Dune area. (We didn't actually play in the sand dunes as it was rather chilly and windy.) Instead we went to the Sea Lion caves which are mentioned in the Eyewitness Travel book
and we now heartily recommend that if you are in Florence, you absolutely go to the Sea Lion caves. It is one of the deepest sea caves in the world that you can visit and you travel down about 200 (give or take) feet to see the sea lions. If you climb to a look out location, you can see the Heceta Head Lighthouse which is "the most photographed lighthouse in the world." (I'll spare you a picture.) We also took the time to walk down Florence's pier and stopped and ate ice cream at a local creamery. (Best ice cream I've ever had too!) The tips from Eyewitness Travel were good and accurate.
Further up the coastline you can see the Devil's Punchbowl near Newport and I will trouble you with a picture from one of our previous trips there. (My husband Jonathan took this picture. Photo credit: Blue Castle Photography.)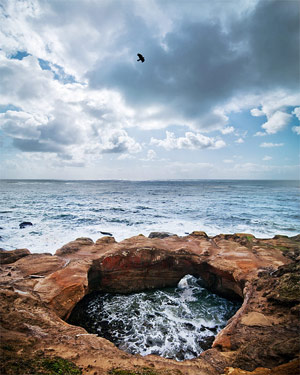 In a few weeks we'll be taking another quick trip up to the Seattle area and you can bet I'll be pulling out my Eyewitness Travel book for some good traveling suggestions. They have all sorts of tips from what to see, where to eat and where to stay. Everything we found in our trip to Florence was spot on, and we are familiar enough to know other spots along the coast to know that this book is accurate in its representations. It IS a useful series. I noticed that they have a book for New England
and since we hope to get over there next year, I'll be looking into the Eyewitness travel book for that area also.
Just a tip from me to you! If you are traveling, check these out! Other books in the series include: Canada
, London
, Prague
and perhaps a few more places closer to home such as Washington, D.C.
and Philadelphia & The Pennsylvania Dutch Country
. Have fun exploring!
Carrie comes by her book obsession honestly, having descended from a long line of bibliophiles. She blogs about books regularly at Reading to Know.