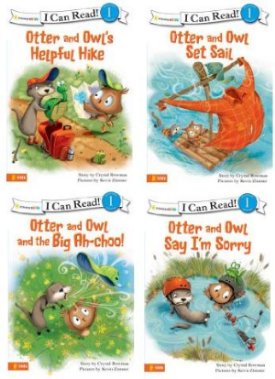 Otter and Owl are a great twosome to get to know if you are just getting started reading. These early readers from Zonderkidz are cute, fun and adventuresome. Otter and Owl are two friends who seemingly do everything together. There are four books in this series and each one managed to hold my almost three year old's attention. These books are marked as Beginning Readers with simple sentences on each page and a fast paced enough story to engage young ones for a short period of time. Also, each one of these is a parable of sorts making for good conversation after reading it.
In Otter and Owl Set Sail
the two decide to make a sailboat (a.k.a. a raft!) and float off down the river. However, once it is all built, they discover that they are unable to make it sail no matter how hard or loud they sing their sailing songs or how hard they blow. They give up on their dreams of grandeur only to wake up the next morning to discover that the wind is blowing, making for adequate sailing conditions. The moral of this story being that we cannot accomplish things in our own strength but God provides exactly what we need and when we need it.
In Otter and Owl and the Big Ah-choo!
Owl and Otter think that Otter is allergic to Owl because he sneezes every time Owl is around. This makes both of them quite sad as they really do enjoy each other and their friendship. The thought of losing it is almost more than either one of them can bear! In the end, they discover it's not Owl that Otter is allergic to – but Owl's new hat! Delighted, the friends get together to romp and play once again. This particular title is all about friendship and the love that we have for one another.
There are two other titles in this series: Otter and Owl's Helpful Hike
and Otter and Owl Say I'm Sorry
which you can check out by clicking on the links.
Zonderkidz has graciously offered to give away FIVE sets of these four books to five of our readers here at 5 Minutes for Books.
That's right – FIVE of you have a chance to win this series of Otter and Owl beginning readers. In order to win, please leave a comment below. Only one comment per person, please. U.S. Residents only.
Even if you don't win, I hope you'll check out these earlier readers. They really are quite cute!
Carrie comes by her book obsession honestly, having descended from a long line of bibliophiles. She blogs about books regularly at Reading to Know.

This is part of the 2009 Back-to-School Giveaway. We'd love it if you helped spread the word!
Leave a comment on this post as your entry.
This giveaway is open to U.S. residents. One entry per person.
New giveaways will be posted through August 26. Winners will be announced August 31.
Check out the list of the other giveaways in the 2009 Back-to-School Giveaway at the main post.