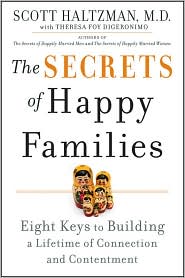 Who wants their family to be happy? Raise your hand! I know I do! I do! I do! The Secrets of Happy Families
: Eight Keys to Building a Lifetime of Connection and Contentment is Scott Haltzman, M.D.'s attempt to share some tips to ensure that your family can be truly happy.
My biggest complaint about this book is that he spends most of the book offering disclaimers about what he means when he says the word "family." Whether or not I agree with his conclusions is besides the point for purposes of this review. The problem is that so many people have broached the subject as to how the word "family" is to be defined that he wastes a lot of time providing disclaimer after disclaimer so that everyone will be happy. It's exhausting reading because I read it wondering how many people could possibly complain THAT much about every little detail. I'm not sure whether it's the public's fault for Haltzman's fault for caving to the demands of demanding people who Must Be Defined all over the place. Really. For the sake of this review let's just say – define "family" however you want and just concentrate on examining the Eight Keys Haltzman provides for creating connection and contentment within the family unit.
Haltzman hits on practical issues for how to keep the family unified and at peace within themselves. His eight "secrets" are divided up into chapters and discussed in the following order:
Happy Families
. . . Stick Together
. . . Commit and Communicate
. . . Lean
. . . Teach to and Learn from Children
. . . Blend
. . . Handle Conflict
. . . Bounce
. . . Breathe
I think generically speaking I can agree with his points. It is important to agree that you are going to stick with your family through thick and through thin. When my husband and I said our marriage vows, we agreed to stay with one another "'till death do us part." For better and for worse. That's not an easy thing to do but it is the right and important thing to do, generally speaking. (I don't want to spend my book review post offering disclaimers all over the place. It'll waste too much time. Just know I'm speaking generally.) It is important to communicate as accurately and lovingly as possible. It is important to cherish your children and consider them a blessing, as well as to train them up in an appropriate manner. It is important to remain flexible and to recognize that life is not all about you, but could occasionally be about some others within your close circle of fellowship. It is important to breathe and let things go that don't really matter in the grand scheme of things. All of this is true.
This is an interesting book that I enjoyed reading and thinking about. I like to delve into "self help" books from time to time because they are frequently interesting, as well as informative. This book was a curiosity for me. I certainly didn't agree with all of his conclusions and justifications, but I did appreciate hearing his thoughts and his logic. Also, too, as I said, I think his advice is just plain practical.
Carrie comes by her book obsession honestly, having descended from a long line of bibliophiles. She blogs about books regularly at Reading to Know.