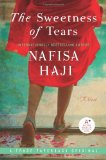 I enjoy multi-cultural fiction. Nafisa Haji's The Sweetness of Tears brings the rich setting of Pakistani (and Pakistani-American) Muslim culture to this novel, with the addition of Christian Americans. The interaction and perspectives of each of these families enriched the story and set it apart from other culture fiction I've read.
The characters are the heart of the novel, and writing character-driven fiction is hard, especially when the story is told from the point of view of several characters. In fact, about halfway through the novel, though I loved the characters (especially Deena, who I'd love to sit and visit with over a cup of her tea), I wasn't sure how much I would end up liking it. But, as I anticipated (or at least hoped), as the characters began interacting with one another more, I loved them even more, which made me love the book.
Jo's brown eyes have always planted doubt in her mind. Her mother and father's eyes are blue. Before she leaves for college, she finally asks her mother Angela, and he mother tells her the truth — that the man who raised her is not her biological father. This lifelong lie distances Jo and Angela.
Although Jo isn't looking for a father, she finds Sadiq, the biological father who doesn't even know she exists. Jo wants to know his story, but doesn't seek out a relationship.
The novel also brings us the story of the young teen Angela, in search of her own father, which is where she is befriended by Deena, Sadiq's mother.
I've given nothing away in this review that isn't just background information. At first I had a little bit of trouble with keeping the relationships straight, but as their stories began to intertwine and overlap, the back-stories made more sense. The Sweetness of Tears refers to those tears that are shed on another's behalf, and this cast of characters ultimately prove to be unselfish and open and loving.
The story unfolded slowly, but it needed to so that we could understand the complexity of the relationships — what each had cost the person and what the person had sacrificed. It's not a story without pain, but ultimately it's one of joy, hope, and peace.
Jennifer Donovan enjoys working through family drama in the pages. She blogs at Snapshot.